As summer draws to a close, it's time to start planning your Labor Day festivities. Looking for some inspiration to send off the season in style? You're in the right place! In this blog post, we explore five exciting Labor Day activities to celebrate the end of summer with a spectacular backyard party.
Whether you're searching for unique Labor Day party ideas, contemplating the perfect Labor Day picnic, or eager to craft a memorable Labor Day theme, we've got you covered. Dive in to discover how to amp up your Labor Day plans.
We'll take you through everything from a traditional backyard Labor Day BBQ featuring our favorite grilling recipes to an adventurous backyard camping night. Get ready to host the ultimate summer farewell party as we bid adieu to the season of sun. Let's make this Labor Day weekend one to remember!
1. Backyard Labor Day BBQ
Throw a traditional backyard barbecue and fire up the grill. We recommend Blaze Grills – they have excellent support and a lifetime warranty. We have another blog post about why we love Blaze Grills if you want to learn more.
Try the following recipes for something exciting and different, or recycle these memorial day grilling recipes you'll love.
Grilled Pineapple Chicken Skewers
Ingredients:
1.5 lbs boneless, skinless chicken breasts cut into 1-inch pieces

1 pineapple, peeled, cored, and cut into 1-inch chunks

1/4 cup soy sauce

2 tablespoons honey

1 tablespoon oil

1 teaspoon garlic powder

1 teaspoon ground ginger

Salt and pepper to taste

Skewers (if wooden, soak in water for 20-30 minutes before grilling)
Instructions:
Mix soy sauce, honey, oil, garlic powder, and ground ginger in a bowl.

Place the chicken pieces in the marinade and stir until well-coated. Let it marinate for at least 30 minutes or up to 24 hours.

Preheat the grill to medium-high heat.

Thread the marinated chicken and pineapple chunks onto skewers, alternating between the two.

Season with salt and pepper.

Grill skewers for 5-7 minutes per side or until the chicken is cooked through and the pineapple is charred.

Serve hot.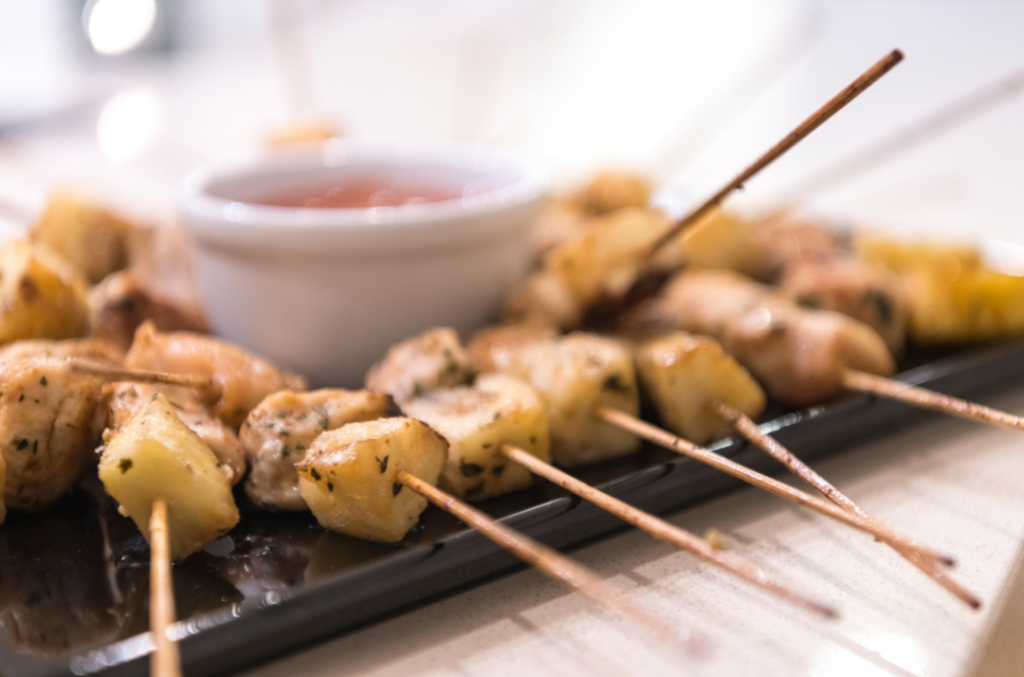 Bacon-Wrapped Jalapeno Poppers
Ingredients:
12 jalapeno peppers, halved lengthwise, seeds and membranes removed

1 (8 oz) package of cream cheese, softened

1 cup shredded sharp Cheddar cheese

1/2 teaspoon paprika

1/2 teaspoon garlic powder

24 slices of bacon
Instructions:
Preheat the grill to medium heat and lightly oil the grate.

Combine the cream cheese, Cheddar cheese, paprika, and garlic powder in a mixing bowl.

Spoon the cheese mixture into each jalapeno half.

Wrap each stuffed jalapeno with a slice of bacon. Secure with a toothpick if necessary.

Grill poppers on the preheated grill until the bacon is crispy and the cheeses are melted about 10-15 minutes.

Let them cool for a few minutes before serving, as the cheese will be very hot.
2. Labor Day Theme: Summer Farewell Movie Night
Set up an outdoor movie projector and screen a favorite summer film to bid the season farewell. Complete the experience with popcorn and cozy blankets.
3. Backyard Camping Labor Day Party
Celebrate Labor Day weekend with an adventurous backyard camping night. Pitch a tent, roll out sleeping bags, and create a cozy campsite atmosphere. 
Make it a digital detox night, and encourage everyone to leave their gadgets inside. You can spend the evening telling stories, playing traditional camping games, and gazing at the stars. 
If you need more inspiration, we have backyard camping ideas to create memorable experiences for your labor day party.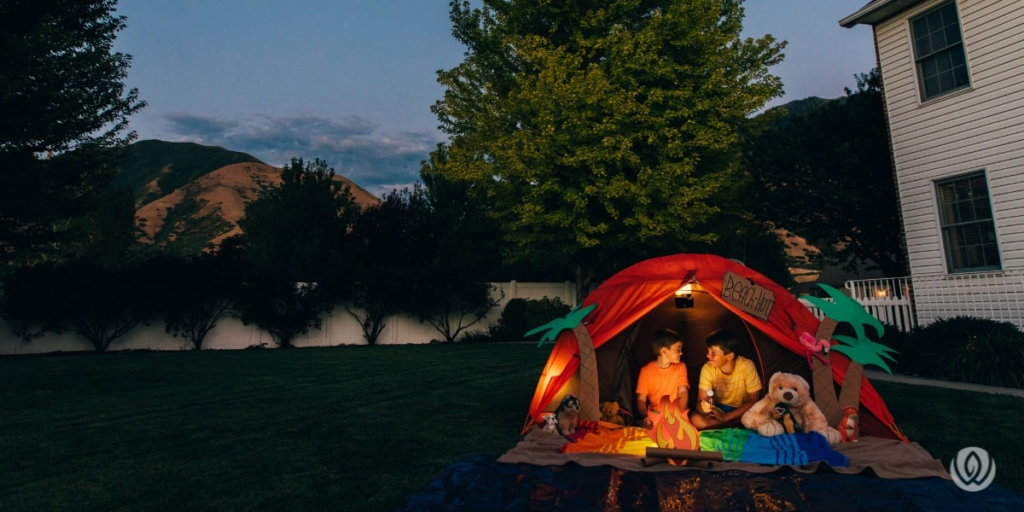 4. Labor Day Luau
Transform your backyard into a tropical oasis for a memorable Labor Day Luau. Setting the stage for your luau is half the fun. To create an island ambiance, use tropical decorations like palm fronds, tiki torches, and colorful flower leis. 
Set up tables with bright, tropical tablecloths and centerpieces, and scatter some beach balls and inflatable palm trees around the yard. Remember to create a playlist full of traditional Hawaiian music and upbeat summer tunes to keep the festive mood going.
You could even try making Huli Huli Chicken, a Hawaiian grilling classic.
5. Labor Day Pizza Party
Take your Labor Day celebration to a delicious new level with a DIY Grilled Pizza Party. Instead of sticking to the traditional barbecue fare, opt for a fun, interactive, and downright delectable alternative.
Setting up a DIY pizza station encourages your guests to get creative, allows them to tailor their toppings to their taste, and adds an interactive element to your party. 
Ingredients: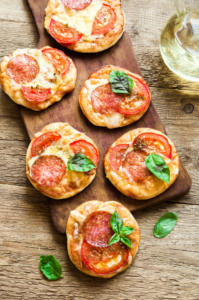 Pizza dough
Olive oil
Sauce
Cheese
Toppings
The Grilling Process:
Have your guests roll their pizza dough to their desired thickness on a floured

 surface. This adds a personal touch to each pizza.

Brush one side of the dough with olive oil and place it oil-side-down on the preheated grill.

Close the lid and let it cook for 2-3 minutes until it's lightly browned and has grill marks. Then, brush the top side with oil, flip the crust, and cook for another 2 minutes.

Remove the crust from the grill momentarily, and have your guests add their sauce, cheese, and toppings to the cooked side of the crust.

Return the topped pizza to the grill, close the lid, and cook for another 3-5 minutes until the cheese is melted and bubbly.

Once ready, use a pizza cutter to slice the pizzas into portions and serve hot.
Dream It. Build It. Live It.
As we wave goodbye to the sizzling heat and long, lazy days of summer, it's the perfect time to look ahead and start planning your following backyard projects. Fall is an excellent time to undertake outdoor improvements, and at LiveWell Outdoors, we're here to make your dream backyard a reality. 
We are passionate about creating beautiful, functional outdoor spaces that enhance your lifestyle. We can help you conceptualize your ideas, design the space, and handle the installation. View our Portfolio for inspiration.
Our experienced professionals will guide you through every step, ensuring the final result is a unique outdoor living space that suits your needs, budget, and personal style. Schedule a consultation, and let's start planning your dream backyard today.