Looking for exciting ways to enjoy the great outdoors without venturing too far from home? Look no further than your backyard! 
Backyard camping provides a perfect opportunity to create lasting memories with family and friends while embracing the beauty of nature. In this blog post, we'll explore various backyard camping ideas and activities that transform your outdoor space into a fun backyard campout. 
We've got you covered, from stargazing under the open sky to indulging in campfire cooking, entertaining games, and even organizing a backyard camping birthday party. So, pitch a tent, light a campfire, and get ready for a backyard camping adventure like no other!
1. Stargazing
Set up a cozy campsite in your backyard and spend the evening stargazing. Bring blankets and comfortable seating, and try to identify constellations and watch for shooting stars.
You could even take it a step further and do some backyard astronomy when camping at night. Set up a telescope in your backyard and explore the wonders of the night sky. Identify planets, observe the moon, or search for distant galaxies. It's a great way to learn about astronomy while enjoying the outdoors.

2. Campfire Cooking
Build a campfire and cook your meals outdoors. You can roast marshmallows for s'mores, grill hot dogs, or even try your hand at campfire cooking recipes like foil-wrapped meals or campfire pizzas.
Just be mindful of fire safety with these camping activities, and don't start any fires in areas where the weather has been extremely dry.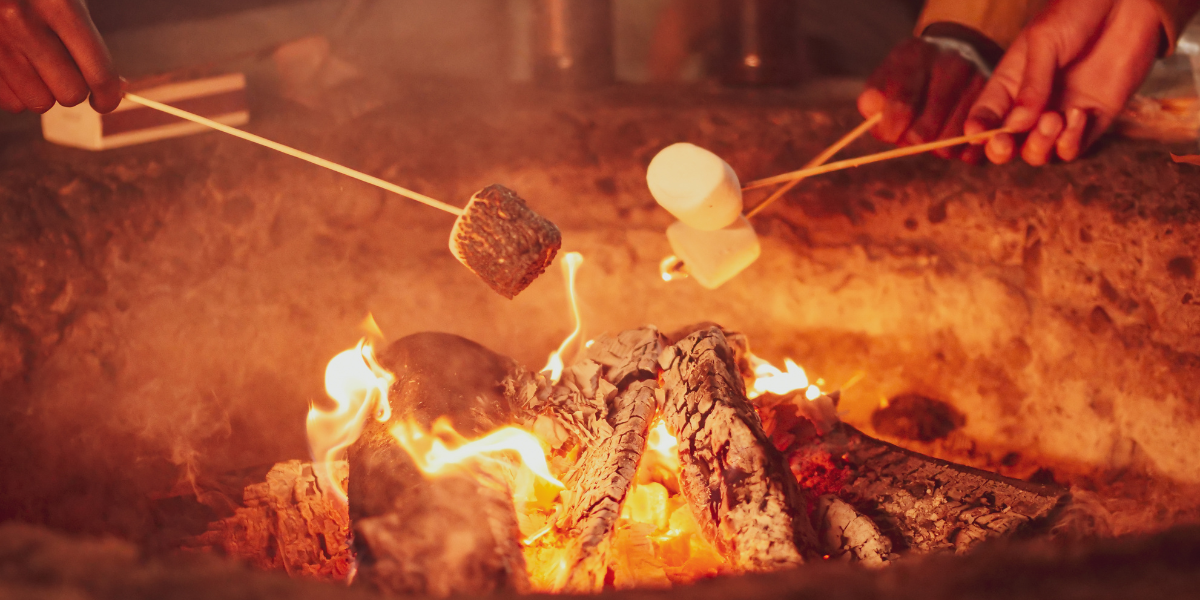 3. DIY Scavenger Hunt
Create a fun scavenger hunt in your backyard. Hide clues and treasures around the area, and challenge your friends or family to solve the riddles and find the hidden items.
This idea is especially perfect for a backyard camping birthday party. You can get various party favors to serve as your treasure. Just make sure the clues aren't too difficult for any kids playing. 
4. Outdoor Movie Night
Set up a projector, screen, or white sheet, and create your own outdoor movie theater. Gather snacks, blankets, and pillows, and enjoy a movie night under the stars.
We have another blog post that details everything you need to know to bring the cinema outside and turn your yard into an outdoor movie theater – it's perfect for a backyard campout.
5. Nature Crafts 
Take advantage of the outdoor setting to engage in nature-inspired crafts. Collect leaves, flowers, and other natural materials, and use them to create art or make crafts like leaf rubbings or pressed flower bookmarks.
This camping activity will give you sweet keepsakes to remember your backyard camping experience.
6. Campout Games
Organize classic camping games like flashlight tag, sack races, or a bean bag toss. These games are fun for all ages and can bring a sense of adventure to your backyard camping experience.
Like the DIY scavenger hunt, this idea is great for a backyard camping birthday party.
7. Storytelling Around the Campfire
Nature is great for getting your creative juices flowing. Gather around the campfire and take turns sharing spooky or funny stories. 
If you're camping at night, set the mood with dim lighting and create a spooky atmosphere for the storytelling session.
8. Tent Fort Building
If you have multiple backyard camping tents, challenge yourselves to build a tent fort. Connect the tents, create tunnels, and make a network of interconnected camping structures for added fun.
Depending on your resources, you could even turn this camping idea into a friendly competition – who can build the best tent fort?
9. Outdoor Yoga or Meditation
We recommend saving this camping idea for the early morning hours when the sun rises to conclude your backyard camping adventures.
Set up a serene space in your backyard for yoga or meditation. Practice gentle stretches or find your inner peace surrounded by nature. It's a perfect way to relax and unwind during your camping experience.

10. Outdoor Game Tournament
Organize an outdoor game tournament during your backyard campout. Set up stations for games like cornhole, ladder toss, horseshoes, or bocce ball. Divide into teams and compete for friendly bragging rights. 
It's a great way to get active, have fun, and enjoy friendly competition with friends and family in a camping atmosphere.
Dream It. Build It. Live It.
As your backyard camping adventure comes to an end, you may find yourself wanting to further enhance your outdoor haven. If you're seeking expert assistance transforming your backyard into a true oasis, look no further than LiveWell Outdoors.
With over 20 years of experience and expertise in creating stunning pools, patios, decks, outdoor kitchens, gardens, and fireplaces, we can turn your backyard into the outdoor living space of your dreams. Take a moment to explore our Portfolio for inspiring examples of our exceptional work.
Whether you reside in Northern Virginia, Maryland, or Washington D.C., our team is dedicated to serving homeowners throughout the Capital Region. Embark on your journey to creating a luxurious outdoor living space and schedule a consultation with us today. With LiveWell Outdoors, your backyard paradise awaits.