Get ready for a movie night like no other as we show you how to transform your backyard into an outdoor movie theater. Picture yourself snuggled up in cozy blankets, munching on buttery popcorn, and enjoying your favorite films under the stars. It's time to bring the magic of the cinema right to your own backyard. 
In this blog post, we'll walk you through everything you need to create an unforgettable outdoor movie experience. So, gather your friends and family, and bring the magic of the movies to the great outdoors with your very own outdoor movie theater. 
Outdoor Projector Setup
So you're thinking of setting up your very own outdoor movie theater? Before you get too excited about the cozy blankets and buttery popcorn, let's talk about the most important part of your setup: the projection system.
You'll need a top-notch projector that can handle the task of displaying movies on a large screen. Look for projectors with a high brightness rating to ensure your movies are clear and vivid, even when watching them outside under the stars. You don't want any fuzzy or dim images ruining your backyard theater.
Outdoor Movie Screen
When setting up your outdoor movie theater, you'll need a large, sturdy screen to project those awesome movies onto. Luckily, you have a few options to choose from!
1. Inflatable Screen
An inflatable screen is easy to set up and provides a great viewing surface. These screens come in various sizes and are perfect for creating a captivating outdoor movie experience.
2. Outdoor Projection Screen
Another option is to invest in an outdoor projection screen specifically designed for outdoor use. These screens are durable, weather-resistant, and provide excellent image quality. They come in different sizes, allowing you to choose the one that fits your backyard space.

3. DIY Projector Screen
If you're feeling more adventurous and want a DIY projector screen, you can create one using white sheets and PVC pipe or other materials as your frame. This route can be a fun and cost-effective way to personalize your outdoor movie theater setup.
Whichever option you choose for your outdoor movie screen, ensure it's large enough to make those movie nights truly immersive.
Sound System
You'll need an audio system that provides clear and immersive sound to complete your outdoor movie theater and bring the cinema outside. In addition to speakers, consider amplifiers and a sound mixer. 
For a truly cinematic experience, use a surround sound system. This setup will put you in the middle of the action, with sound effects and voices coming from all around you. It adds an extra layer of excitement to your backyard movie theater.
Media Source 
You'll need a media player to play your favorite movies in your outdoor movie theater. You can use a DVD/Blu-ray player, a laptop, a streaming device, or even a dedicated media server.
Ensure the chosen media source works well with your projector and sound system. Doing so helps your movies play smoothly and syncs the audio and visuals.
Whether you decide on a DVD/Blu-ray player, a laptop, a streaming device, or a media server, choose an option that fits perfectly into your outdoor movie setup.
Power Supply
It's important to have a reliable power supply for your outdoor movie setup. Your projector, audio system, and other equipment will need power to operate effectively. Ensure you have an adequate power supply to support all your devices and keep the movie magic going.
Before you set up your outdoor theater, check the availability of nearby electrical outlets or consider using generators to provide the necessary power. Doing so will ensure a seamless experience without any interruptions.
Creating Ambiance: Seating and Lighting
It's essential to consider seating and lighting options to create the perfect ambiance for your outdoor movie night. Provide blankets, cushions, lawn chairs, or temporary seating like folding chairs and bean bags for comfortable seating. Various seating choices will make everyone feel cozy and relaxed as they settle in for the movie.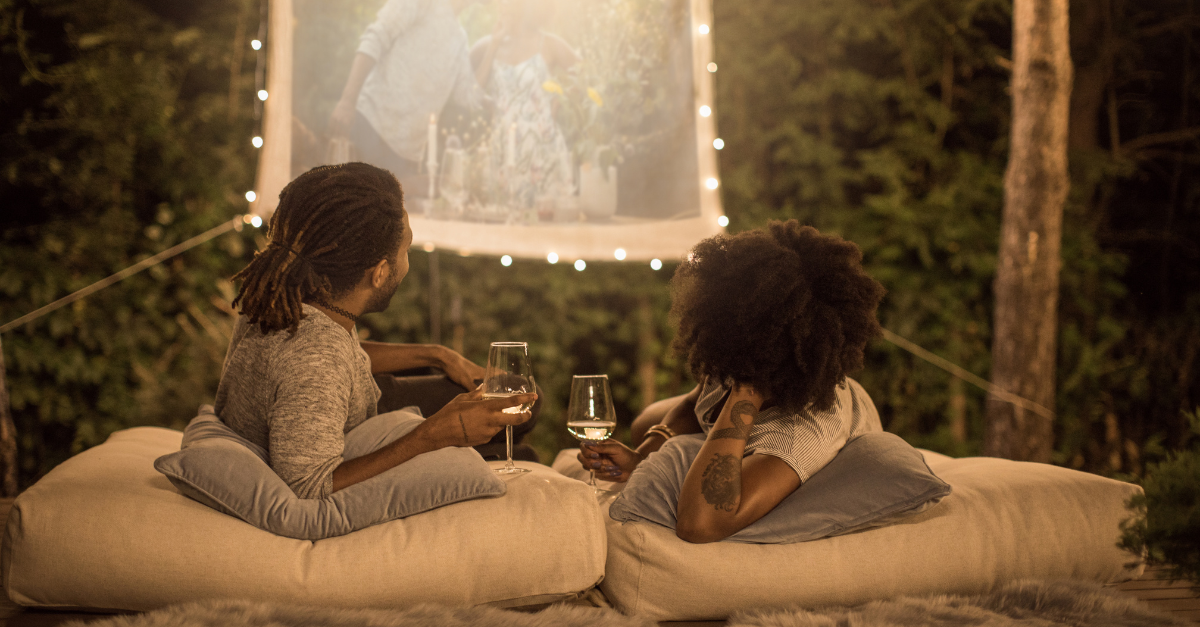 Along with seating, lighting plays a crucial role in setting the mood and ensuring safety. Consider adding pathway lights or string lights around the area. These create a pleasant ambiance and provide illumination so everyone can safely move around during the event. 
You could also light citronella candles for lighting that enhances the atmosphere and keeps bugs away.

Snacks and Refreshments
Last but not least, why not offer some delicious snacks and refreshing drinks to enhance the outdoor movie experience? 
You could even set up your own concession stand with various treats. Bring the movie theater outside with classic cinema snacks like popcorn, candy, and beverages. Consider providing a range of options to cater to different tastes and preferences.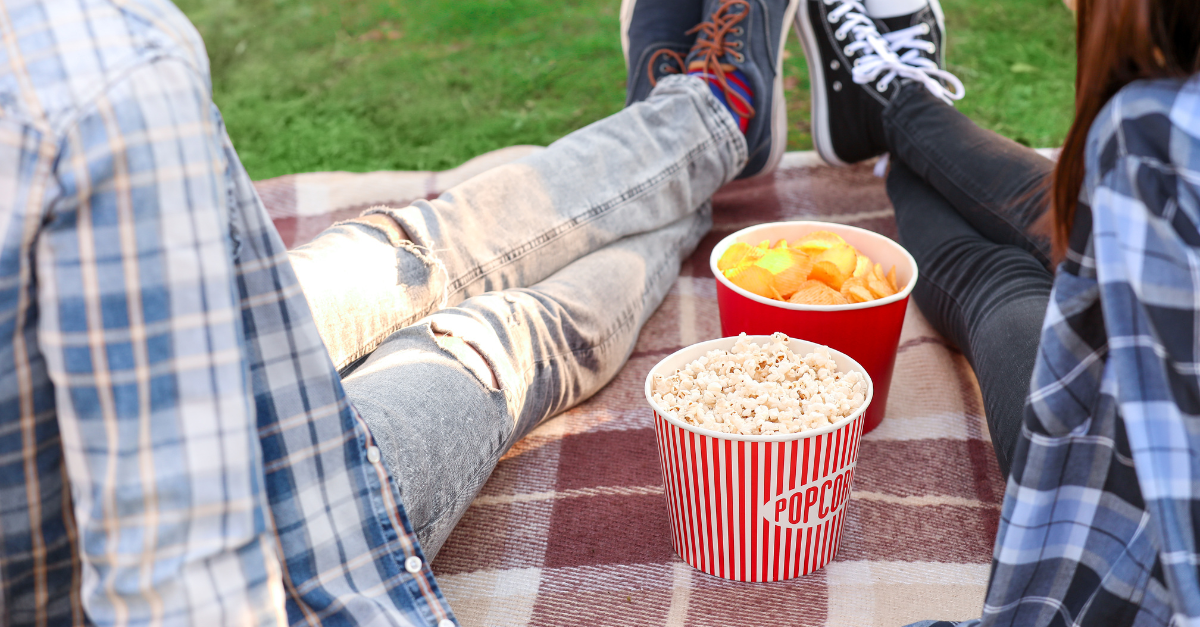 Or, invite your guests to bring their own snacks and drinks, allowing everyone to enjoy their favorite treats while enjoying the movie. Encourage them to bring picnic blankets or portable tables for a cozy setup.
You could also take things a step further and grill out before your outdoor movie night. We have some excellent grilling recipes you'll love.
Dream It. Build It. Live It.
As you prepare for the outdoor movie night of your dreams, you might find yourself wanting to enhance your backyard even more. If you need additional assistance to create the perfect outdoor living space, LiveWell Outdoors is here to help.
With over 20 years of experience and expertise in creating stunning pools, patios, decks, outdoor kitchens, gardens, and fireplaces, we can turn your backyard into a true oasis. You can head over to our Portfolio and get inspired by examples of our work.
We work with homeowners throughout the Capital Region, including Northern Virginia, Maryland, and Washington D.C. Start your journey to creating your luxury outdoor living space – schedule a consultation today.