With the colder temperatures of January upon us here in Maryland, many of us have closed the pool, covered the patio furniture, and hung up the leaf blower. We might still venture outside on a sunny afternoon or bearably chilly evening and light up the fire pit. Be sure to take a good look around while you're outside.
Does your outdoor living space need some oomph? Start planning now for the best summer ever in 2021. If we're lucky, the pandemic will be a thing of the past, and we can all get back to hosting pool parties and celebrations in the comfort of our own backyards.
With that in mind, we've reviewed some of the top outdoor living trends for 2021, to help you fulfill your dreams. Visit our Portfolio page for inspiration, or Pinterest. Pin your favorite outdoor living images so when we meet, we can create a distinctive design that brings your ideas to life.
Pergolas
What is a pergola, you might ask? Chances are you've seen one. A pergola is a hardscape structure, frequently made of wood, with four columns that support a roofing of rafters and beams. You can leave the roof open like latticework and fill it in with vining plants such as wisteria. Another option is to have a solid roof to provide a shady spot next to your inground pool, or to cover your outdoor kitchen.
Google Trends has the terms "pergola," "pergola blueprints," and "cantilevered pergola" as leaping off the charts. Yes, there are pergola kits out there for someone trying to save a buck. But, we recommend a custom-designed pergola to really add a "wow" factor to your patio and garden areas. From rustic to elegant, your options are limitless.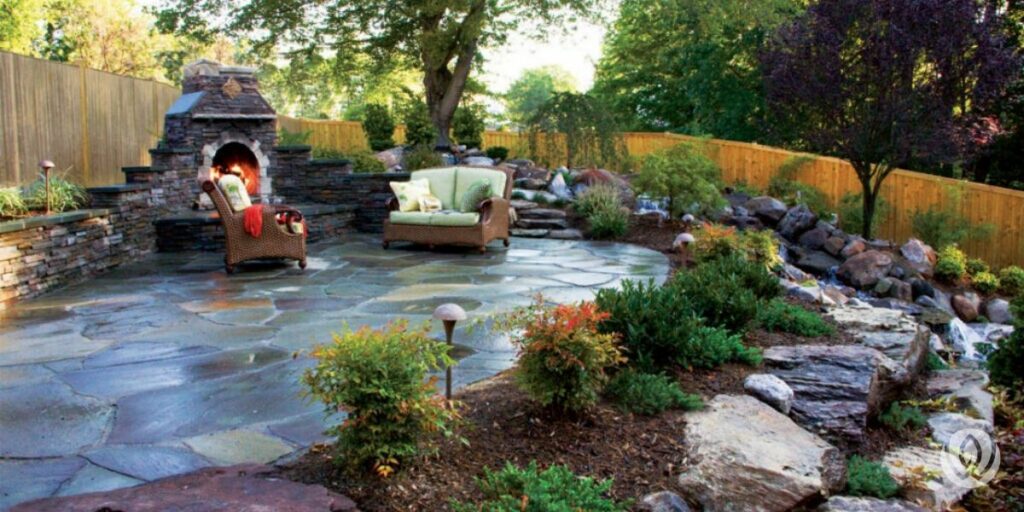 Outdoor Patio with Fireplace
Expand your outdoor living possibilities with an outdoor patio along with a fireplace. An outdoor fireplace is a perfect addition to your outdoor kitchen or patio area. Add a pizza oven for good measure. Just imagine the tailgating parties you can host for those away games!
If you bought a new home with just grass out back, or a small-ish patio, think about replacing it with a larger paver patio or natural stone patio – think multiple levels to create several cozy areas.
"Edible" Gardens
While lush landscaping is still one of the most popular outdoor living trends, more and more people are adding a smaller, edible garden to the mix. Planting strawberries, tomatoes, vining beans, and herbs into your patio and kitchen area is a wonderful way to enjoy the fruits of nature, but also add unique interest.
You can create a vertical wall of garden pots, or use raised beds for your garden. There is nothing better than snipping fresh herbs or plucking a ripe red tomato for use in the evening's meal – eaten al fresco, of course!
Dream It. Build It. Live It.
Now Booking for 2021
And just because something is trending, doesn't mean you need to follow the crowd. Here at LiveWell Outdoors, we create unique and distinctive designs that exceed your expectations. Beautiful, elegant, tranquil, relaxing – your outdoor living space in 2021 can be all of that and more!
Please reach out to schedule a consultation. We can provide you with a virtual immersion, so you can really see what the finished project will look like. Fill out the contact form or give us a call at 301-720-1000 to get started on your outdoor oasis.