Outdoor kitchens continue to be wildly popular nationwide. They're a perfect addition to your outdoor living space, especially if you like to cook, or you like to entertain (or both). We've seen a number of outdoor kitchen ideas that rival high-end indoor kitchens.
Granite countertops, stainless steel cabinets and appliances, high-end grills, oh my! Just Google "luxury outdoor kitchen" and check out the images for inspiration. See what we mean? They're gorgeous. The good news is, with a little planning, you can have a custom kitchen in your backyard, too!
Outdoor Kitchen Designs
The best outdoor kitchen designs are beautiful, elegant, and above all, supremely functional. If the kitchen layout is awkward, you'll hate it. Carefully consider where you place the outdoor cooking area in relation to the sink/food prep area and the refrigerator.
You want them to form what's known as the kitchen triangle formation like you have in your inside kitchen. This allows for easy traffic flow from one work zone to another.
Outdoor Cooking Area
Gas grills remain the most popular element for most outdoor cooking aficionados. You can build a fully equipped grill station where you have all of the tools you need, and include not only a gas grill, but a smoker, a pizza oven, or the Big Green Egg.
Decide what you like to cook and how you like to cook, and plan from there.
Outdoor Fireplace
An outdoor fireplace adds a beautiful focal point to your outdoor living area, but can also be a useful part of your outdoor kitchen. Want to cook over an open fire? Check. Want to cook pizza in a brick oven? Check.
And by adding the outdoor fireplace, you can extend the patio season by months. What's not to like about that?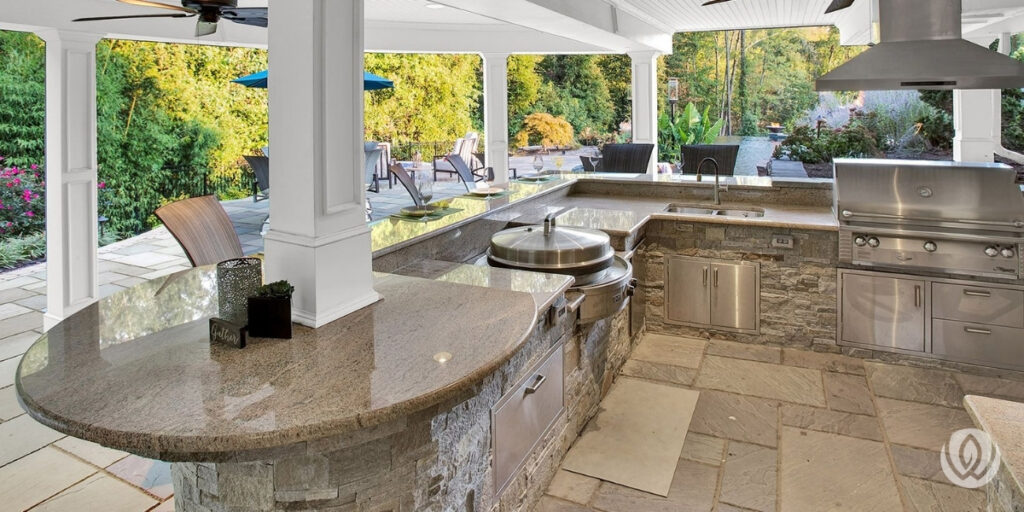 Keep it Under Cover
One of the best outdoor kitchen ideas to come about in recent years is to put a roof on it. By putting your kitchen and dining area under a custom pergola or pavilion, you're protected from the weather. No sun beating down on you, or rushing everyone indoors if it starts to rain.
Outdoor Dining Area
And of course, while you're building a new outdoor kitchen, you want to consider revamping your outdoor dining area. This can be as simple as upgrading your outdoor dining room furniture and upgrading the light fixtures. Think about installing a ceiling fan or chandelier to add comfort and elegance. Open air dining can't be beat.
Home Bar
For the ultimate in outdoor entertaining, consider building a home bar as part of your outdoor kitchen project. Install a bar height counter, select bar stools that fit your style and meet your fancy. Add a kegerator, wine refrigerator and a hanging rack to store glassware, and you're all set. Happy hour is calling.
Dream It. Build It. Live It.
To truly get your dream outdoor kitchen, you'll want to hire outdoor kitchen contractors with a proven track record like the team here at LiveWell Outdoors. We design and build kitchens that any chef would be happy to call their own. Check out our Portfolio page for a small sample of our work.
We would be happy to provide you with more images and references if you would like. Simply schedule a consultation to get started. 100% financing is available.