Welcome to the world of ultimate outdoor luxury and convenience. In this modern era, where technology can seamlessly blend with nature, outdoor gadgets transform backyards into high-tech oases. At LiveWell Outdoors, we specialize in luxury outdoor living, and we've compiled a list of innovative smart outdoor electronics to enhance your outdoor experience and add a touch of sophistication to your space.
From weather-resistant smart sneakers to robotic lawnmowers, these outdoor gadgets can enhance your outdoor experience while making your backyard more efficient and enjoyable. Read on to discover how nature and technology can combine to make your backyard more cozy and fun.
1. Robot Lawn Mower
Shop around for these outdoor gadgets equipped with GPS and mowing schedules to keep your lawn perfectly manicured without ever lifting a finger. 
These robotic mowers can navigate your yard – some do well on hilly terrain, cutting grass at set times to ensure an even trim throughout your outdoor space.
2. Smart Grills with Advanced Features
Elevate your outdoor cooking experience with a smart grill. These backyard gadgets can include Wi-Fi connectivity, temperature control, and even recipe assistance.
They allow you to monitor and adjust the cooking process from your smartphone for perfectly grilled meals every time. We also have some grilling recipes you'll love if you're looking for recipes to try on your smart grill.
3. Smart Sprinkler Systems
Optimize water usage and maintain a healthy lawn with a smart sprinkler system. These systems can be controlled via a mobile app, allowing you to schedule watering times, adjust settings remotely, and even integrate weather forecasts to avoid unnecessary watering. 
One of the best garden gadgets – smart sprinkler systems especially help when you're on vacation or out of town and must ensure your garden gets properly watered. 

4. Robotic Pool Cleaner
Take the hassle out of pool maintenance with these outdoor gadgets. 
Robot pool cleaners can autonomously clean your pool's floors and walls, ensuring crystal-clear water with minimal effort on your part. 
5. Smart Pool Water Monitors 
Keep your pool water in check with a smart water monitor. 
These devices can measure essential parameters like PH, temperature, and chlorine levels, providing accurate readings and sending notifications to your mobile app for easy monitoring and maintenance. 
6. Battery-Powered Projector
Turn your yard into an outdoor movie theater with a battery-powered projector. 
These compact outdoor electronics can deliver high-quality visuals for movie nights or watching your favorite sporting events.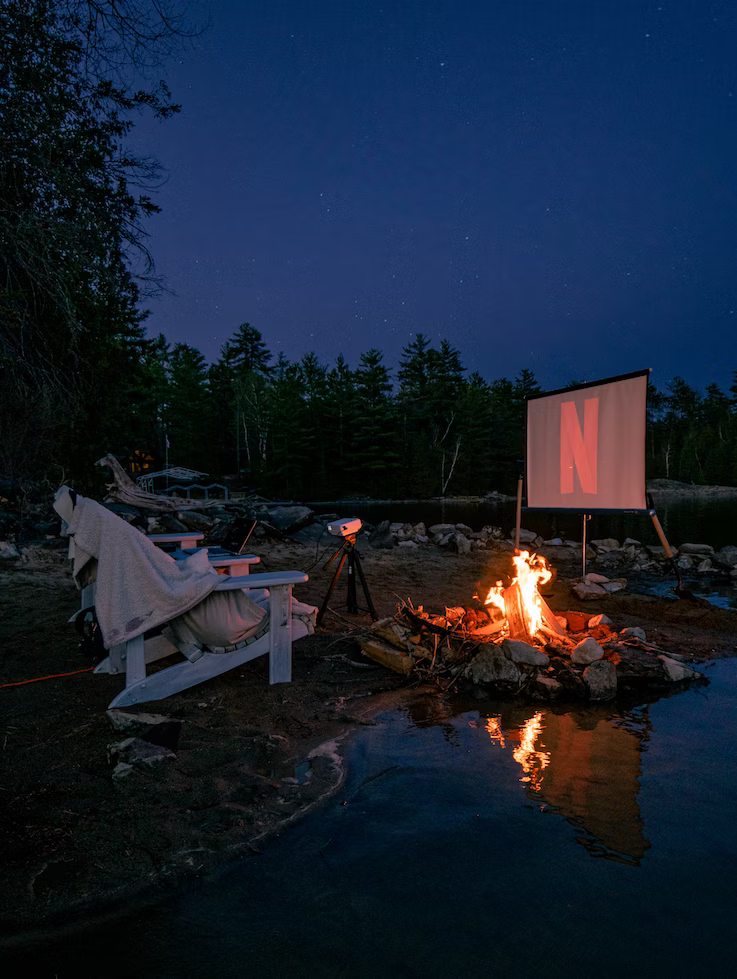 7. Outdoor TV
Bring the cinematic experience to your backyard with this outdoor gadget. Outdoor TVs are weatherproof and designed to withstand rain, dust, and extreme temperatures. 
They allow you to enjoy movies, sports, and TV shows under the open sky. 
8. Portable Speaker
Enjoy your favorite music outdoors with a portable speaker – bonus points if it's waterproof or water-resistant. 
Find a speaker designed to withstand the elements that provide excellent sound quality and wireless connectivity for a seamless listening experience. 
9. Party Lights
Create a vibrant atmosphere with party lights that can be controlled remotely. 
Look out for lights that can synchronize with music, changing colors and patterns to match the rhythm and energy of your outdoor gatherings. 

10. Home Security System
Ensure the safety of your backyard and home with a high-definition home security camera. 
These smart outdoor gadgets can provide real-time monitoring, night vision, and motion detection capabilities, allowing you to watch your property anywhere within a mobile app. 
Investing in these backyard gadgets will provide convenience and entertainment and enhance your backyard's aesthetics, making it a true high-tech oasis. With these outdoor electronics, your backyard will become the envy of the neighborhood. 
Dream It. Build It. Live It.
At LiveWell Outdoors, we understand that outdoor gadgets can play a major role in enjoying your backyard. But why stop there? We specialize in luxury outdoor living and have the expertise to take your backyard to the next level. 
With over 20 years of experience and expertise in creating breathtaking pools, patios, decks, outdoor kitchens, gardens, and fireplaces, we have the know-how to transform your backyard into a true oasis. Visit our Portfolio to get inspired.
We proudly serve homeowners throughout the Capital Region, including Northern Virginia, Maryland, and Washington D.C. Schedule a consultation and take the first step toward turning your high-tech backyard into the ultimate oasis with expert craftsmanship.