If you're looking into upgrading your outdoor living space, you're probably familiar with the umbrella term hardscaping. As the name implies, hardscaping includes all of the elements of your landscape design that are not plant material, i.e. hardscape materials are the hard, solid elements.
Hardscape Elements for Your Outdoor Living Space
Hardscape elements can include:
Driveways
Pathways
Retaining Walls
As is the case when you're planning any major upgrade to your home, it's helpful to understand the vernacular. So, when you interview hardscaping contractors to get estimates, you understand what they're saying and can ask specific questions as they relate to your project and your preferences. 
Let's take a look at some of the most common hardscaping terms.
Base Material
As the name implies, the base material is what lies beneath the base of a patio, driveway, or walkway. It consists of layers of gravel, sand, tiny chips, etc. Using the right base material in the right amount is crucial to the success and stability of your project.
Border
A border defines a walkway, driveway, or patio. We might use coordinating pavers or natural stone in a different pattern. 
Bullnose
Bullnose refers to the rounded edge of pavers. These pavers are frequently used in bench seating, wall caps, and pool coping. This allows someone to sit on them without the discomfort of any sharp edges. Your kitchen countertops might have a bullnose edge.
Composite Decking
Composite decking is a manufactured decking material that looks better and lasts longer than most wood decks. It is also low maintenance – it doesn't require regular staining or painting, and it won't rot or splinter. 
Geogrid
A geogrid is a geosynthetic product we might use to help stabilize and reinforce retaining walls, patios, and other hardscape elements. It's not something you can see once a project is finished.
Grading
Grading is where we use heavy machinery to change the slope, or grade, of your property. This might mean leveling an area for your patio or changing the grade to help with the drainage of rainwater.
Inlay
An inlay is a paver or stone design that we lay into a larger paver or stone area such as a patio or paver driveway.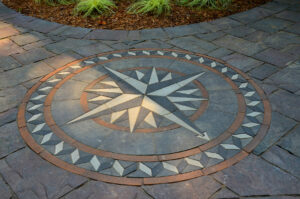 Natural Stone
Natural stone is a high-end option for your hardscape elements and can form the basis of an entire patio, or accent elements such as a border. Examples of natural stones we use include:
Bluestone
Flagstone
Slate
Travertine
We might use pea gravel, river rock, or other small stone in naturalized garden areas or walkways.
Pavers
In contrast to natural stone, pavers are manufactured but made to look like natural stone. They have a lower price point and can give you the look you want at a fraction of the cost. They come in a huge array of shapes, sizes, and colors.
Pergola
A pergola is an open-sided structure with four pillars or supports, one at each corner. It has a somewhat open top, which can be made with a lattice formation or side-by-side beams. A pavilion is a pergola with a fixed roof. Both provide shade and shelter in your outdoor living space.
Permeable Pavers / Pervious Pavers
Permeable pavers, or pervious pavers, are pavers installed with small gaps between them that allow water to pass through to layers of rock underneath. This then allows water to drain into the ground, rather than a pool, or run off into the stormwater system. 
Related Reading: Consider Permeable Pavers for Sustainable Outdoor Living
Retaining Wall
A retaining wall is a wall built to help stabilize, or retain, soil to keep it from shifting. If your property is on a slope, we might suggest retaining walls to create a terraced effect, or to provide stability and beauty at the edge of a patio or pool. 
Seat Wall
A seat wall is similar to a retaining wall, but it is lower and not necessarily needed to prevent erosion. You might want a seat wall at one or more edges of your patio, or around a fire pit. 
Wall Cap
A wall cap is a flat piece, frequently with a bullnose edge, that provides a finished top for a retaining wall or seat wall. Wall caps usually overhang the wall by several inches.
Hardscape Suppliers We Use
We use products from several of the top names in the hardscape business. For natural stone, we will source that from local landscape centers. For pavers, decking, and all of the associated finishing products, we use:
By clicking on the links above, you can see examples of some of the terms and products we have mentioned.
Related Reading: Choosing the Best Decking Materials for Your Home
Dream It. Build It. Live It.
If you're looking to upgrade your backyard into a pool paradise or personal retreat, we can help. You deserve luxury outdoor living at its best, and that's just what we provide. Check out our Portfolio for examples of our work, and to gain inspiration. If you can dream it, we can design and build it.
We work with homeowners throughout the Capital Region, including Northern Virginia, Maryland, and Washington D.C.