So, you didn't win the 2023 HGTV Dream Home. Neither did we. But you can create your own dream home exterior by taking some ideas from HGTV designer Brian Patrick Flynn. Just make sure you work with an outdoor living contractor who can take your ideas, expand on them, and give you an outdoor experience worthy of the Dream Home.
Carefully planning and designing your outdoor oasis is crucial to a successful project – one that you'll fall in love with over and over again. Using quality materials is also a must-have to get the upscale look you crave.
Get the HGTV Dream Home Look with Belgard Products
If you're in love with the Dream Home outdoor spaces, you can customize a design for your own home, and use some of the same high-end materials from Belgard that were used for the Dream Home exterior spaces. As a Belgard Authorized Contractor, we regularly incorporate Belgard products into our projects.
Here, we take a look at some of the products used for the outdoor spaces at the HGTV Dream Home. Keep in mind not all products are available in all regions. But Belgard has plenty of beautiful pavers, slabs, and wall systems that you're sure to find the right look for your project.
Artforms™
The seating area by the outdoor kitchen is faced with Artforms™ large format concrete panels for a modern look. The clean lines offer a contemporary feel.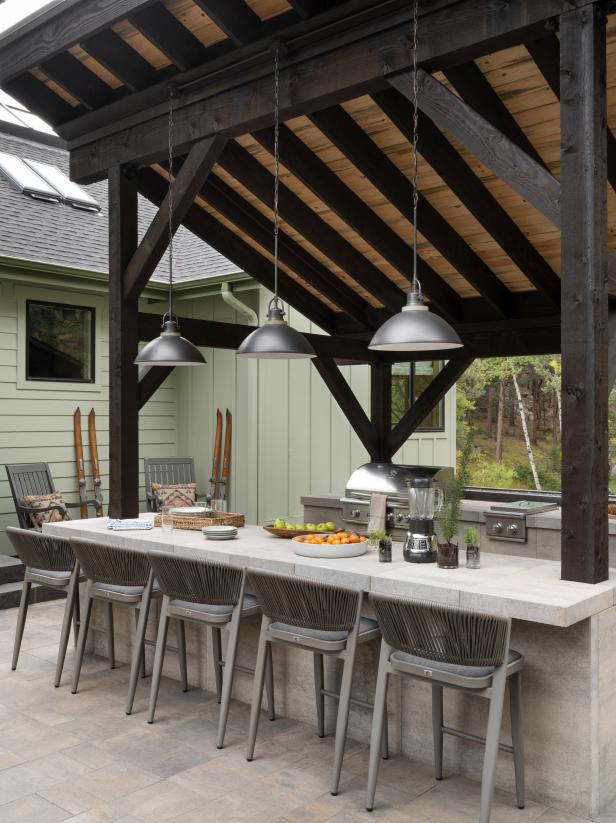 Landings™ Steps
These steps give the rugged look of quarried limestone, at a fraction of the price. They lend instant style to any elevation changes to get you from one area to another. At the HGTV Dream Home, the steps take you from the patio level up to the lounge or the fire pit.
Origins™ 12
Origins™ pavers provide the look and texture of real stone and come with modular sizing. Three different size pavers within each line allow for increased options for creative patterns. At the HGTV Dream Home, these pavers are used on the main level of the patio.
Mega Arbel™
Mega-Arbel® used near the fire pit offers the look and feel of natural flagstone. With an irregular shape and virtual joints, it creates a random look that you might find in nature. 

Sterling™ Wall
The Sterling™ Wall System is used for the retaining wall that borders the edge of the patio where it meets the hillside. If you have a sloped yard, one or more retaining walls may be needed in your patio design. 
Sterling™ Wall Fire Pit
Belgard used the Sterling™ Wall block to build the fire pit as well. Using the same product for two applications lends a cohesive feel to the outdoor space.

Elements™
They used Elements™ outdoor kitchen components at the Dream Home, but we recommend Blaze Grill products and others. We've had a good experience with them.
Related Reading: Why We Use Blaze Grill® Products in Your Outdoor Kitchen
Elevated Deck
The elevated deck on the other side of the house is simply stunning. It runs the full length of the house and provides sheltered outdoor living at its finest. While the HGTV Dream Home deck is made with products from a sister company of Belgard, we would recommend Fiberon decking and railings as the best deck materials in our region.
Related Reading: Choosing the Best Decking Materials for Your Home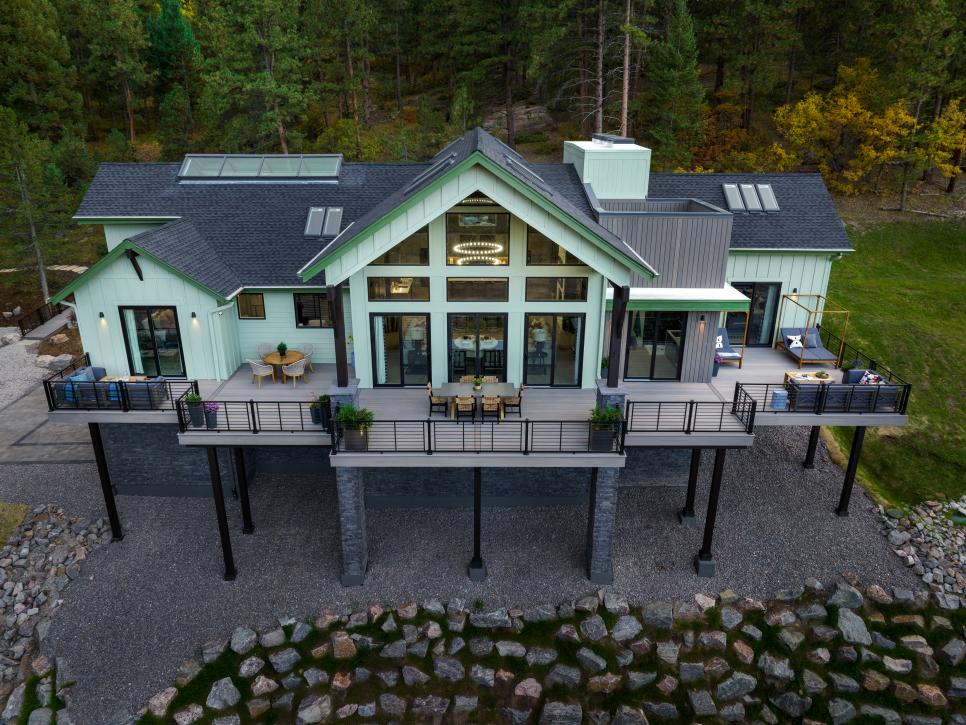 Dream It. Build It. Live It.
If you're dreaming about turning your property into an outdoor oasis worthy of HGTV's Dream Home, we can help turn your dreams into reality. We design and build custom pools, patios, and other hardscape elements as well as create beautiful and innovative landscape design plans for our clients. 
Check out our Portfolio for examples of our work, and to gain inspiration, and then contact us for a design consultation. We work with homeowners throughout the Capital Region, including Northern Virginia, Maryland, and Washington D.C.