As October nights grow chilly and whispers of ghosts begin to fill the air, it's time to rethink your Halloween celebrations. Why not move beyond the typical ghouls and goblins this year and elevate your festivities? Hosting a sophisticated Halloween soirée in your outdoor space is one of this season's most alluring Halloween event ideas. 
From stylish décor that adds a bewitching charm to gourmet treats that tantalize the senses, delve into the art of throwing a memorable Halloween bash infused with elegance. Whether you're a seasoned party planner or a beginner, these tips and tricks will ensure your event stands out as the epitome of haunted luxury.
Halloween Yard Ideas — Setting the Scene for Elegance
When it comes to Halloween-yard ideas, the goal is to create an atmosphere that is both festive and elegant. Instead of the traditional scary props and orange lights, think of minimalistic and stylish décor elements for a sophisticated vibe. Consider using a simple color palette, such as black, gold, and white, to evoke a luxurious feel without detracting from the Halloween spirit.
Items like glass pumpkins, gilded skull decorations, or even draped, sheer fabrics will give your soiree a greater sense of class. These elements can provide a Halloween feel without overwhelming your guests with too much spookiness. Opt for subtle, well-placed décor that complements the natural beauty of your outdoor space rather than overshadowing it.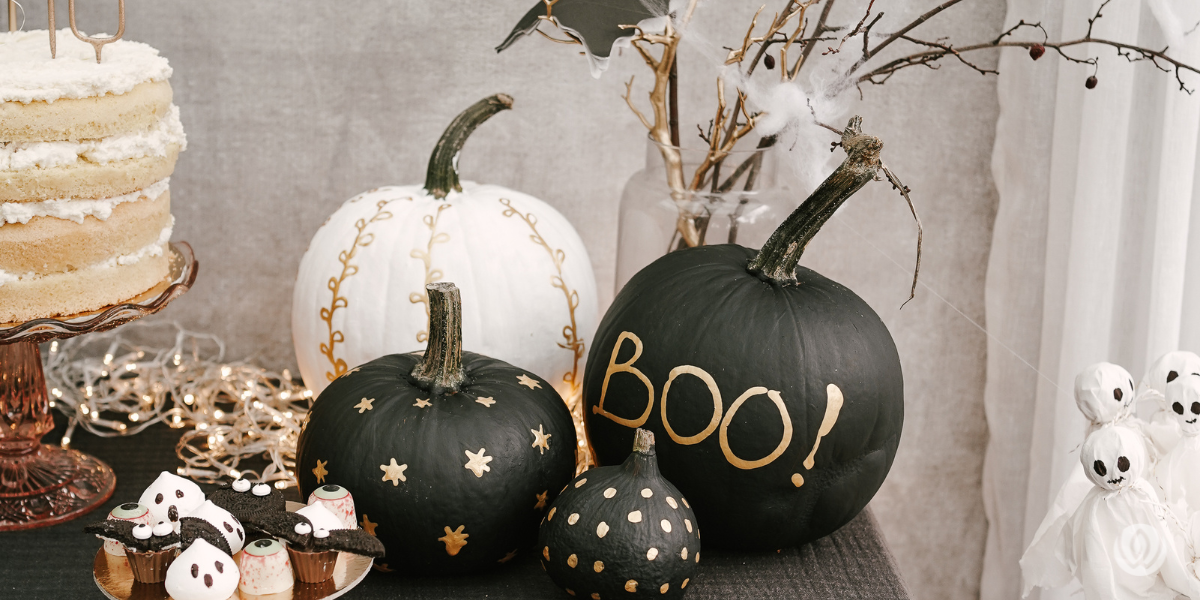 Outdoor Halloween Decoration Ideas — Luxury Meets Spooky
As you dive deeper into outdoor Halloween decoration ideas, remember that lighting plays a crucial role in setting the mood. Subtle lighting choices, such as soft white fairy lights or lanterns with candles, can provide a luxurious feel, making your space warm and inviting. For a unique touch, consider using flameless candles with a slight flicker to mimic the ambiance of real candles without the risk.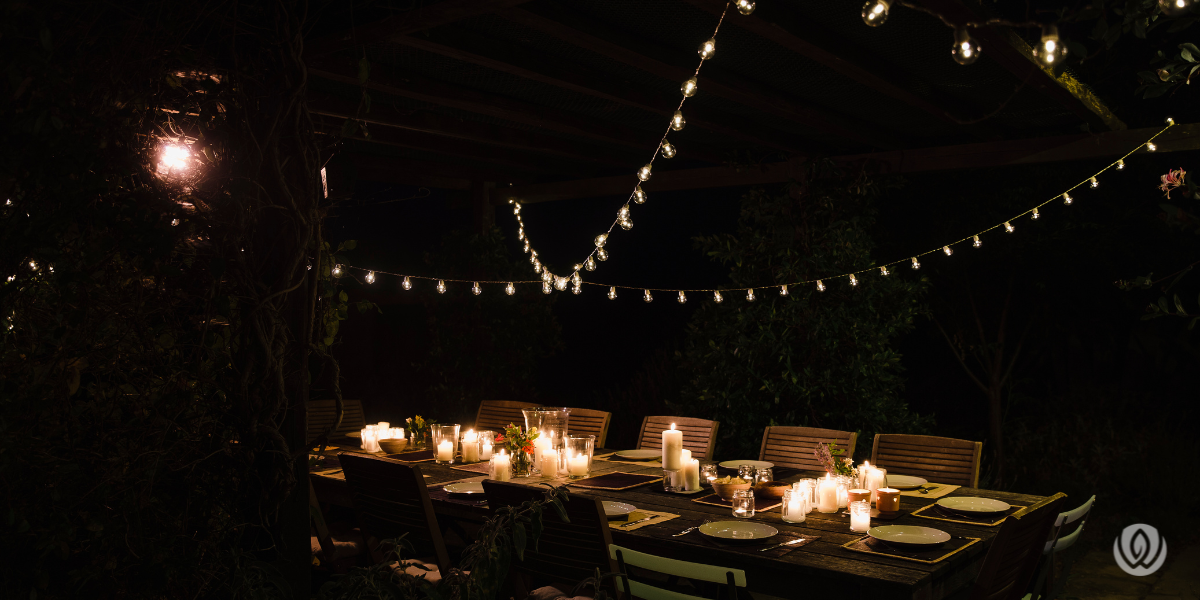 High-end materials and props can add an elegant touch to your Halloween setting. Think velvety tablecloths, silver candelabras, or even delicate lace webs. With a focus on quality and design, these pieces blend seamlessly with the outdoor environment, elevating the ambiance.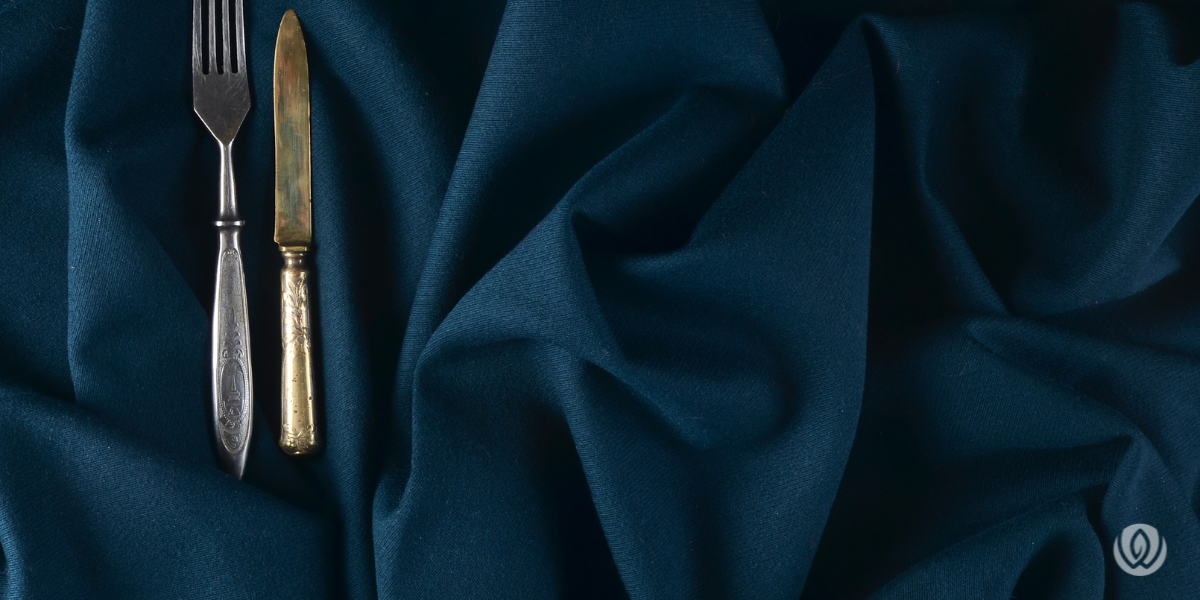 Lastly, when considering decorating ideas for an outdoor Halloween party, consider thematic centerpieces and decor that ooze elegance. For instance, a bouquet of black roses in a crystal vase or a stylishly haunted birdcage can be conversation starters. It's all about creating a cohesive look that speaks to the spooky season while maintaining an air of sophistication and class.
Outdoor Halloween Ideas for Delicious Food and Drinks
An elegant soirée is incomplete without a spread of gourmet treats and beverages. When curating outdoor Halloween ideas for your upscale gathering, the emphasis should be on taste and presentation.
For starters, consider dishes that are seasonally inspired yet gourmet. Think pumpkin risotto served in hollowed-out mini pumpkins or blood-red beet soup presented in crystal bowls. To satisfy the sweet tooth, a dark chocolate mousse with gold leaf or pomegranate and blackberry tarts can be perfect additions to the menu, providing that Halloween vibe in a sophisticated manner.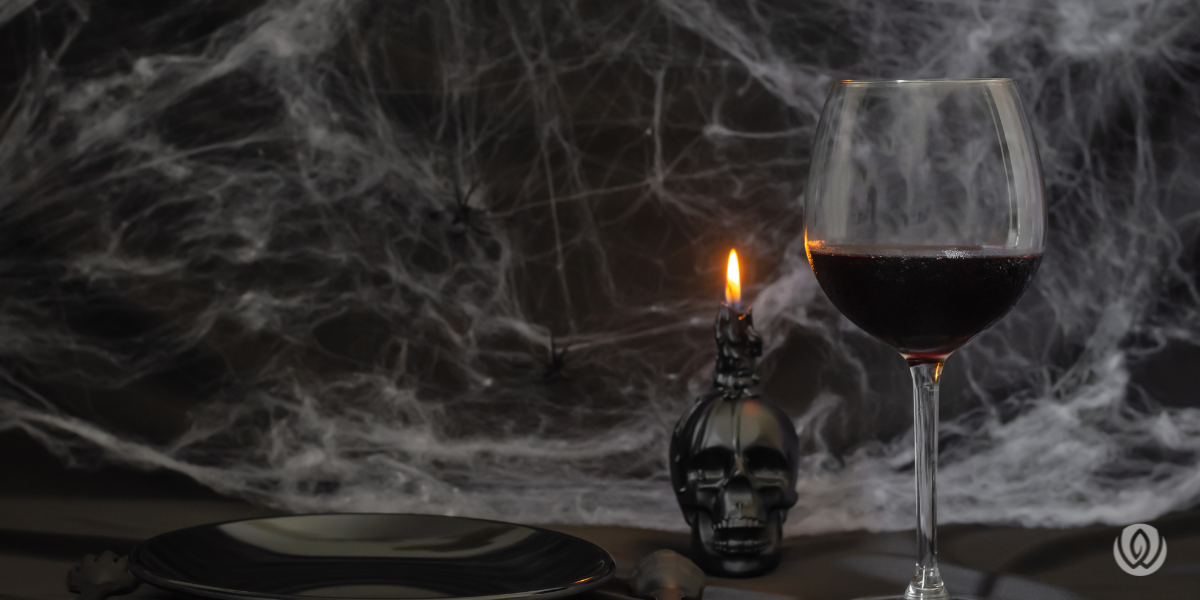 No elegant Halloween party is complete without custom drinks. While the themes may be rooted in Halloween event ideas, the presentation must remain upscale. Opt for cocktails like a blackberry muddled 'Midnight Elixir' served in vintage glasses or a 'Ghostly White Russian' with a hint of vanilla and topped with a marshmallow ghost. 
For non-alcoholic options, a spiced apple punch served in glass carafes or blood orange mocktails with crystallized sugar rims can be festive and chic. By pairing the right outdoor Halloween ideas with a touch of luxury in your food and drink choices, you can ensure your guests have a hauntingly delightful culinary experience.
Outdoor Halloween Party Activities — Refined Entertainment
Planning activities for an elegant soirée involves striking the right balance between classic Halloween fun and refined entertainment. These outdoor Halloween party ideas will elevate your celebration and leave your guests with unforgettable memories. 
1. Mystery Wine Tasting
Elevate a traditional tasting by draping bottles in dark velvet, hiding their identities, and challenging guests to identify flavors and origins. Use golden scorecards and have a luxe prize for the winner, like a vintage bottle or gourmet chocolates.
2. Elegant Costume Parade
While many Halloween event ideas involve costumes, hosting a sophisticated costume parade takes it up a notch. Encourage guests to dress in vintage, elegant, or historical costumes, and award prizes for categories like "Best Vintage Look."
3. Moonlit Garden Tour
If your outdoor space boasts a garden, consider giving guided moonlit tours. Illuminate paths with soft lanterns or fairy lights and share ghost stories or hauntingly beautiful tales of historical figures or legendary gardens.
4. Luxury Crafting Corner
Set up a crafting station where guests can make sophisticated Halloween-themed crafts, like beaded spider web coasters or velvet pumpkin decorations. It's a fun activity that gives guests a souvenir from the night. 
Halloween Event Planning Tips — The Final Touches
When hosting an elegant outdoor Halloween soirée, every detail matters – from the first impression made by the invitation to the attire of your attendees. Here are some pointers to ensure your Halloween event ideas are seamlessly sophisticated and memorable.
1. Stylish Invitations
Set the tone with your invitations—opt for high-quality paper with gold or silver embossing. Vintage motifs, subtle gothic elements, or elegant scripts can convey the luxurious Halloween theme.
Also, consider going digital with animated e-invites with a spooky elegance, like a slowly unfurling scroll or a wax-sealed envelope.
2. Dress Code Suggestions
Guiding your guests on the expected attire is essential. Encourage them to avoid the usual store-bought costumes and find pieces that match your event's elegance.
Terms like "Gothic Glamour," "Victorian Elegance," or "Haute Halloween" can be used to inspire their wardrobe choices.
3. Themed Music Playlist
Curate a playlist that aligns with your theme. Think haunting instrumentals, classical pieces, or vintage tracks that create an ambiance without overpowering conversations.
Focusing on these refined Halloween event ideas ensures your soirée stands out as an unforgettable, classy affair amidst the typical Halloween festivities. 
Dream It. Build It. Live It. 
Luxury outdoor living is at the very heart of LiveWell Outdoors. Every event, especially one as enchanting as Halloween, deserves a touch of elegance and grandeur. From pools to patios and decks to dreamy gardens, our expertise revolves around transforming ordinary outdoor spaces into magnificent retreats.
If your backyard needs some TLC before you're ready to host, don't worry. With over 20 years of experience, distinctive designs, and a seamless process, we're here to help you shape the perfect backdrop for all your luxurious events. Schedule a consultation with us, and let's bring your dream space to life. Cheers to a Halloween filled with elegance and charm!