Happy Labor Day! It's the unofficial end of summer and the last day of summer vacation for a lot of school kids around the country. But Labor Day is a lot more than that. We thought today would be a good time to look at the story behind why we celebrate Labor Day.
Labor Day is a federal holiday that is observed on the first Monday in September. It's a day originally set aside to celebrate the achievements of American workers. Labor activists created the holiday in the late 19th century and it eventually became a federal holiday in 1894.
(If you want to skip the history of Labor Day, scroll down to get four fun ideas for how you can celebrate in your backyard!)
Labor Union Achievements
At the height of the Industrial Revolution in the US in the late 1800s, the average American worked 12 hours a day, 7 days a week just to scratch out a basic living. That's an 84-hour work week! Children as young as 5 or 6 worked in factories, mills, and even mines across the country, earning a fraction of what an adult earned.
Workers of all ages, especially children, the very poor, and recent immigrants, faced extremely unsafe working conditions. On the job injuries and illnesses associated with insufficient access to fresh air or sanitary facilities were common.
As a result of long hours and unsafe working conditions, labor unions, which had been around for years, became more prominent and vocal. They began organizing rallies and strikes to protest working conditions and to get employers to renegotiate for better hours and wages.
Many of these strikes and rallies turned violent, with company owners hiring police and private security to come in and break them up, by any means necessary. But the unions persevered, and today, we have them to thank for:
A 40-hour workweek
An 8-hour workday
Minimum wage
Mandatory breaks
Overtime pay
Paid vacation
Weekends off (or a break after 5 days)
Child labor laws
Workplace safety laws
Workers' Compensation insurance
Wrongful termination laws
Age discrimination laws
And much more

Union membership has declined greatly over the years, but membership is still high in the public sector. This includes teachers, police officers, firefighters. Private sector union membership is highest in utilities, transportation, and food service.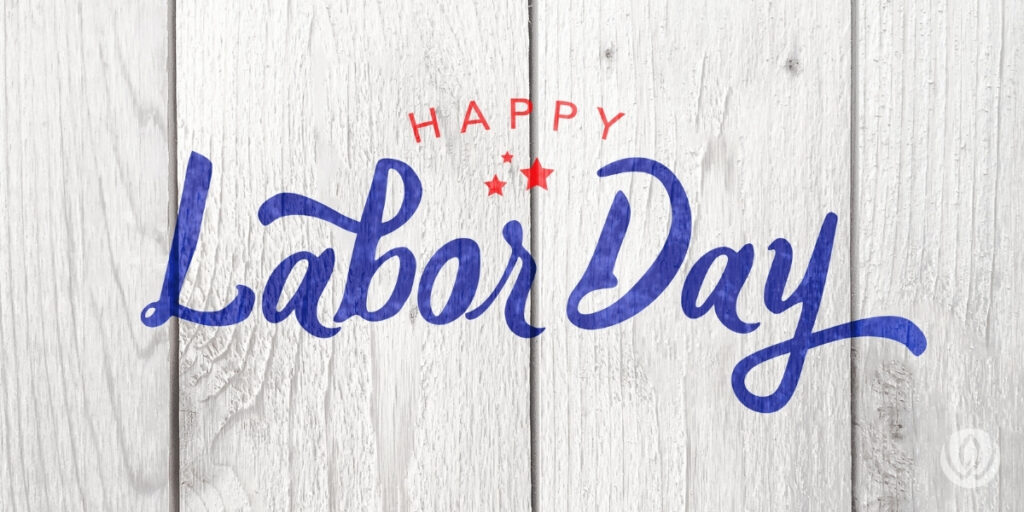 Celebrate Labor Day in Your Backyard
So, that's your history lesson for today. We hope you have an amazing day off and to help with that, here are four backyard party ideas for you to try out.
1. Backyard Bonfire
Nothing beats a classic backyard BBQ followed by roasted marshmallows (or s'mores!) around the fire pit!
Not only will this be a delicious way to celebrate Labor Day in your backyard, but there's also not much prep to do. Marshmallows on skewers, the fire from your fire pit, and some amazing tunes in the background are all you need. And, maybe a cozy blanket if the evening turns chilly.
2. Ice Cream Social
Kids of all ages will love an ice cream party and so will you. Your options are limitless and with a wide variety of ice cream (or FroYo) flavors and mashups, cones, and toppings, there'll be something for everyone to enjoy.
Be sure to keep lots of napkins and wet wipes on hand. Things will get messy but that's part of the fun!
3. Pool Party
This is your chance to have one last hurrah before cooler temps come back. So grab your swimsuit, your favorite summer beverages, and a few fun pool floats.
Remember to have snacks on hand as well as a few umbrellas poolside to provide shade just in case the sun comes out in full force. And when the party's over, consider our next option: watch a movie!
4. Backyard Movie Night
Movie night will be fun especially if you set up a concession stand (a folding table with a nice tablecloth will do) with the basics like popcorn and candy.
Of course, you can kick things up a notch with nachos and cheese and a variety of beverages for kids and adults. You can also try making your own Chex Mix (recipe) or potato chips (recipe).
Other things to make movie night more cozy and comfortable include:
Lawn blankets
Pillows
Inflatable seats or bean bag chairs
Blankets
Bug spray or Citronella candles
Tissues (for those tearjerker films!)

Not sure what movie to watch? Let the tiny humans in your family help you choose. Don't worry, you can select a few that adults can watch after the kiddos head off to bed.
Enjoy the holiday!
Dream It. Build It. Live It.
Just because summer is over doesn't mean you need to stop enjoying your outdoor living space. September is actually a great time to schedule improvements to your space. If you notice issues with your patio or deck, or would really love to have an outdoor kitchen, why wait to fulfill your dreams?
Schedule a consultation by filling out the contact form, or give us a call at 301.720.1000. We work with homeowners throughout the Capital Region, including Maryland, DC, and Northern Virginia.