Summer is officially here! That means spending more time outside with family and friends, practicing yoga, or just sipping your morning cup of coffee in peace. Look around. Does your patio inspire you? Chances are if it's more than 10 years old, it leaves something to be desired.
Or perhaps you're in a newly built home that just has a tiny square of a deck or patio. Either way, you may be looking for patio design ideas to turn a drab space into a fabulous area for entertaining. Well, you're in the right place!
Patio Size and Layout
Most patio design ideas must first look at how much space you have, how big you want your patio to be, and what layout you want. We've designed and installed patios of all shapes and sizes. Do you like curved edges or straight lines? One level, or two, or even three?
The layout of your patio will take into account the slope of your yard, and we can incorporate stairs and retaining walls as part of the overall patio design.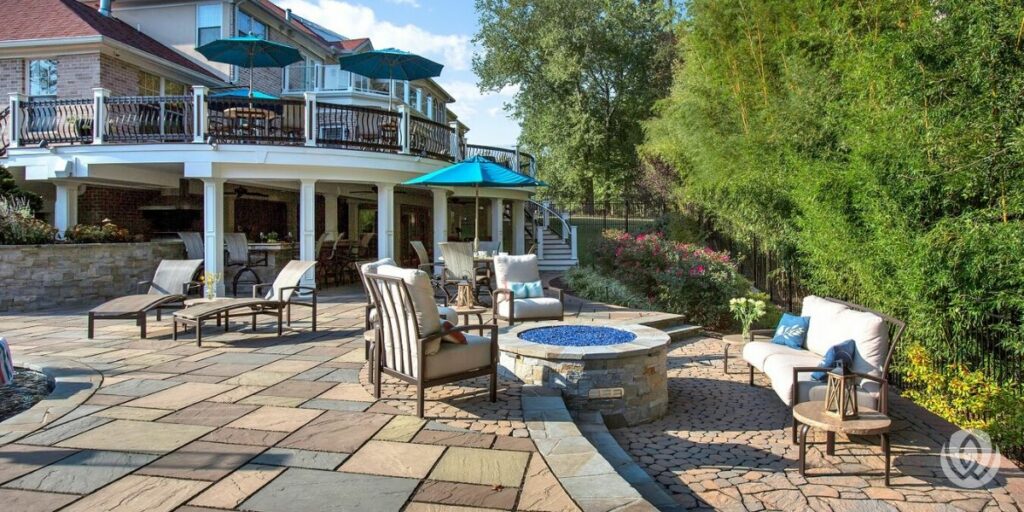 Why Stop at One?
If you have a larger backyard, you don't have to stop with just one patio. This is especially true if you want to have a grassy area for the kids to play in, or you have existing gardens. Of course, you will want a larger, main patio right at the back entrance of your home.
But you can also have a smaller patio further away, where you have a fire pit, for example. You can also put in a small patio with seating in a secluded garden. Your options are limited only by your imagination.
Selecting the Right Materials
Selecting the right materials for your patio is a personal choice. What's your style? Minimalist? Traditional? Eclectic? There are ways to achieve any of these looks. We specialize in paver patios and patios built with natural stone. Our clients opt for an upscale look with quality materials.
Some of the products we use include:
Travertine
Bluestone
Slate
Flagstone
There are many styles and colors of pavers, slabs, and stone to choose from. Browse the manufacturer's websites to find styles and colors that appeal to you. We'll help you make the final choices that fit with your overall patio design, and with our 3D immersion video, we can show you what the finished project will look like.
Add a Pergola for Vertical Interest
And you may want to consider adding a pergola for vertical interest. A pergola over a patio seating area provides shade and allows you to plant some lovely vines to accent the look. Or add hanging plants that you switch out with the seasons.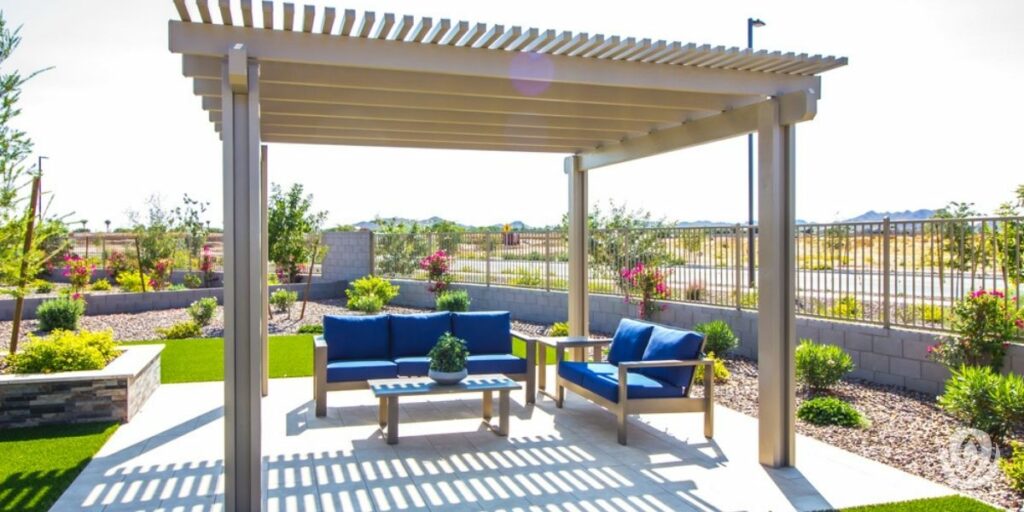 Add an Outdoor Fireplace or Fire Pit (Or Both)
If you want to extend the time that you can comfortably use your patio, consider adding an outdoor fireplace or fire pit, or both, if you have space. There's nothing like sitting next to a crackling fire on a cool evening. We can install one of these fire features at the same time as we install your patio if you would like.
Get Things Cooking with an Outdoor Kitchen
And, if you really like outdoor entertaining, adding an outdoor kitchen to your patio design is a winning idea. We design and install outdoor kitchens of all sizes – from a basic kitchen to a gourmet kitchen fit for a chef.
RELATED READING: How to Choose Among Patio Builders
Dream It. Build It. Live It.
Getting the patio of your dreams starts with hiring the right patio contractors. When you partner with LiveWell Outdoors, you get an experienced team that's dedicated to your project, and to delivering you the highest quality outdoor living space. Visit our Portfolio page to see examples of our patio design and installation projects.
Learn more about our Process and then schedule a consultation, or call us at 301.720.1000.