If you're thinking about getting an inground pool this year, you're probably checking out inground pool ideas to see what's right for you. Here at LiveWell Outdoors, we specialize in custom shotcrete pool installation.  We can customize all of the following pool ideas to provide you with a luxurious pool paradise.
Some big trends for 2021 include:
The Semi Inground Pool
A semi-inground pool is just what it sounds like: a swimming pool where part of it is inground, and part of it is above ground. Keep in mind we're not talking about kits you can buy online. We design and build the pool semi inground, and then cover the pool walls to your specifications.
Many homeowners have us install stone, tile, or wood planks to cover the pool walls. It's even possible to install glass as a pool wall, creating the look of an aquarium or giant fish tank!
A semi-inground pool is actually a great pool design for a sloped yard, where we blend one end of the pool into the slope of your yard.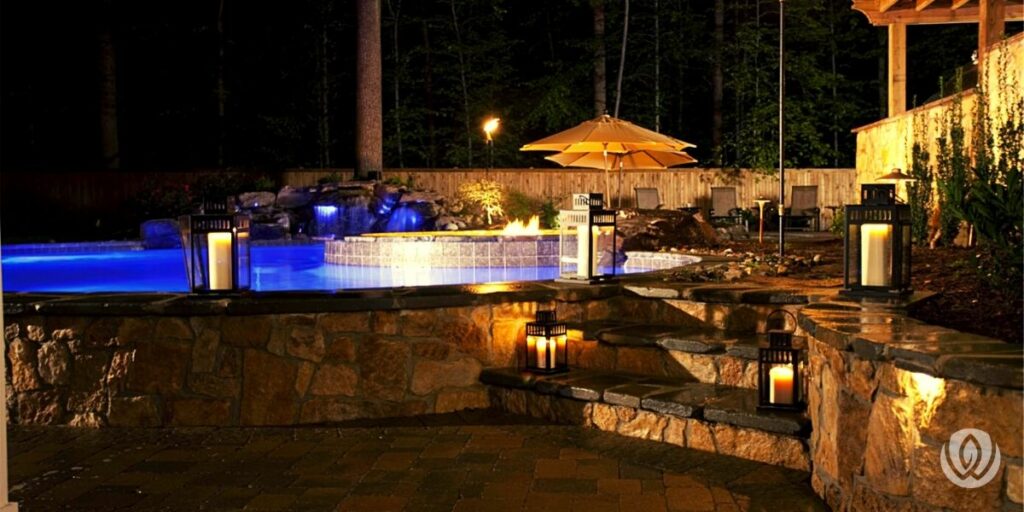 The Infinity Pool
You've probably seen an infinity pool at a high-end resort, in a magazine, or in the movies. They are so dramatic and beautiful that people who have the space are installing them more frequently. Also known as an infinity edge pool or vanishing edge pool, these inground swimming pools let you take advantage of a dramatic view.
One pool wall is just a fraction of an inch lower than the others, so the pool water flows into a catch basin below. This creates the optical illusion of the water extending infinitely into the horizon.  An infinity pool is a truly custom-built pool.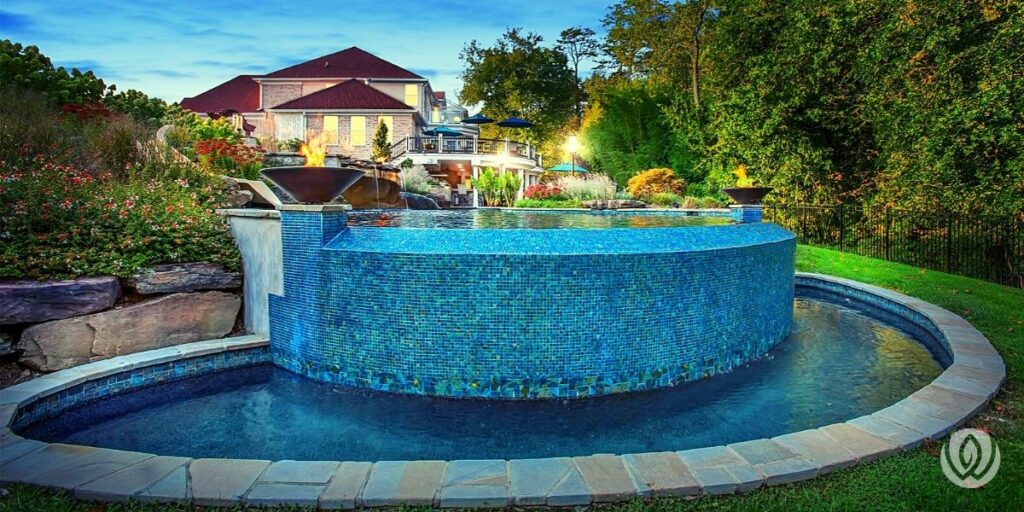 The Cocktail Pool
These inground pools are much smaller than a family pool. They're perfect for smaller spaces, or even in addition to a full-size inground pool. A cocktail pool typically has built-in seating around the pool, so guests can dip their feet in while sipping cocktails. Some people know these smaller pools as dipping pools.
Again, we can totally customize your pool with shape, finishes, pool lighting, water features, and more. You may even want to install a swimming machine!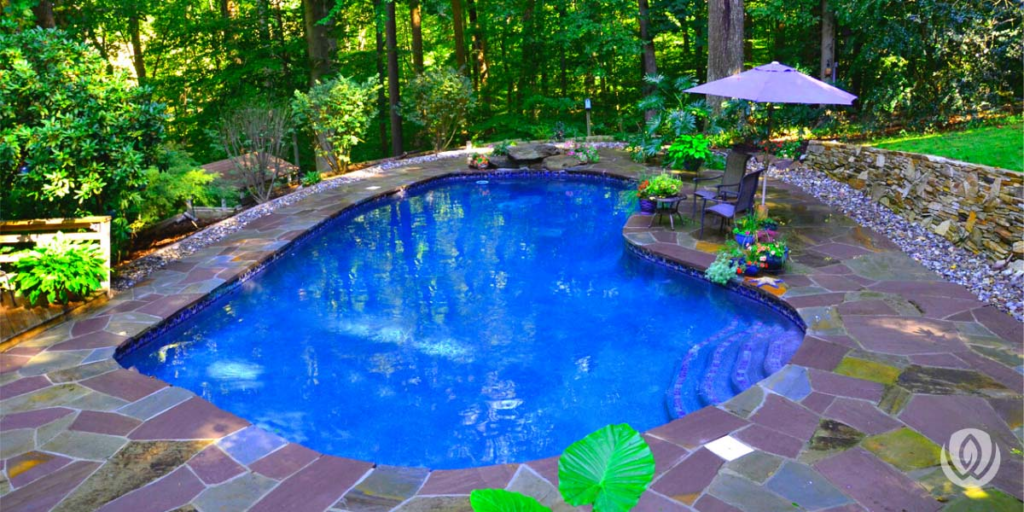 The Combined Pool and Spa
This trend continues to be popular. Rather than having a completely separate spa, we build it so that the water from the spa spills over into your custom inground pool. The spa can be elevated above the pool for a waterfall effect, or the spa can be inground and feature an infinity edge. The pool and spa design ideas are limitless.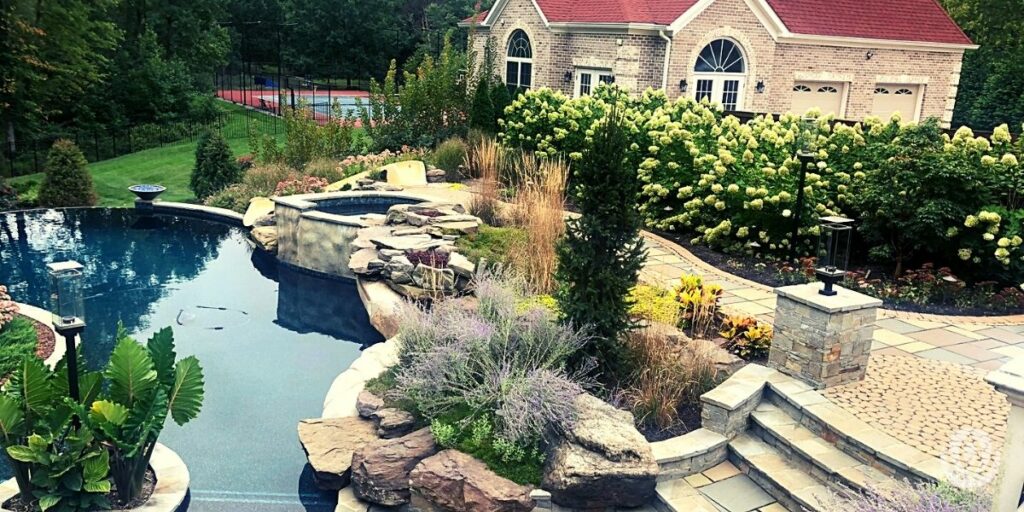 Custom Shapes for Inground Pools
Another trend is a custom shape for your inground pool. Again, this is where going with a shotcrete pool makes all things possible. You are not limited to a specific size or shape like you are with other pools.
This means we can design and build an inground pool with an irregular shape, L-shape, or something else to take advantage of your backyard's unique features.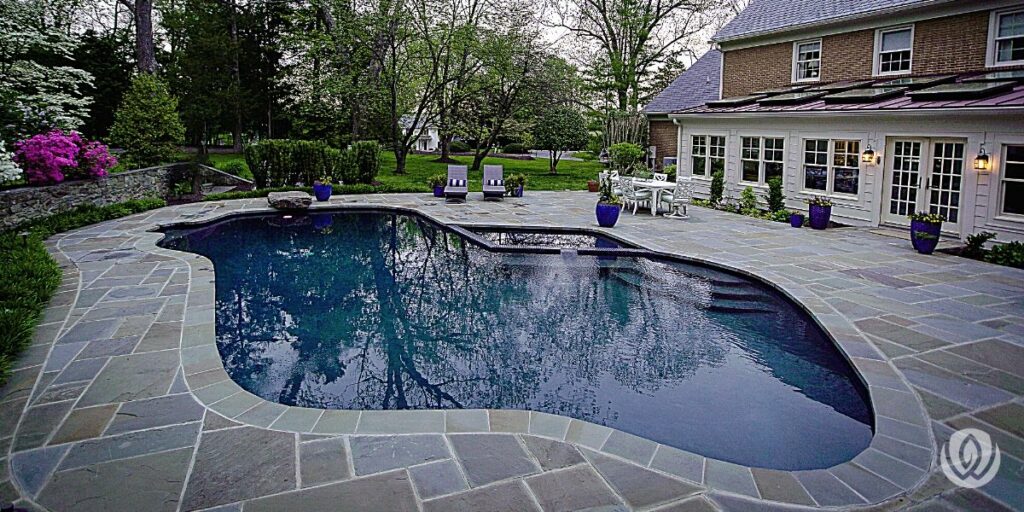 The Pool Waterfall
More and more of our clients are incorporating a pool waterfall into their custom pool design. A waterfall can have a sophisticated effect with sheeting water, or a tropical feel with a pool rock waterfall and pool grotto or cave.
Once again, if you can imagine it, we can design and build it!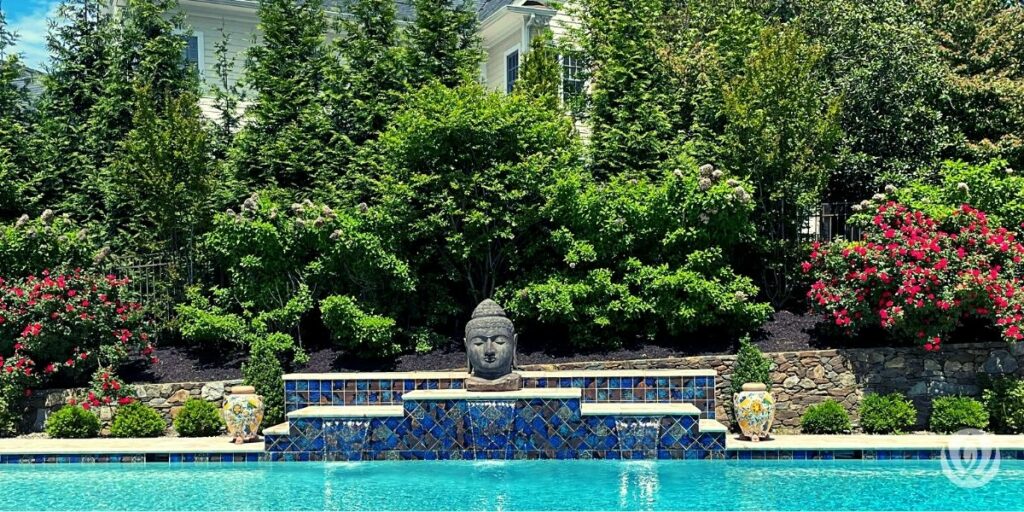 Dream It. Build It. Live It.
If you're ready to build the inground pool of your dreams, LiveWell Outdoors can help. We are the premier inground pool installation company for shotcrete pools in the Capitol region of Maryland, DC, and northern Virginia.
We specialize in designing and building custom shotcrete pools. We're a full-service outdoor living contractor, so we can also handle your pool decking and pool landscaping, as well as your patio project. Check out our Portfolio for a look at some of our work.
If you like what you see, click the button to schedule a consultation, or call us at 301.720.1000.