The Pros and Cons of Rectangular and Freeform Pools
A beautiful inground pool in your backyard is calming, inviting, and a great feature to upgrade your outdoor living options. If you're in the beginning stages of planning a new pool installation, one of the big decisions revolves around what pool design is best for your family and your yard.
Today, we're going to go over some of the pros and cons of the two basic pool designs, which can be customized to work with your space. We'll be talking about custom concrete/gunite pools since that's what we design and build.
Freeform Pools
Freeform swimming pools feature a more natural pool design, one that mimics a lake or lagoon. If you want your pool paradise to have a tropical feel with a pool waterfall, then a freeform pool may be the best pool design for you. The curves of a freeform pool will also complement your home's architecture if you have rounded or curved features such as curved windows, curved stairs, a curved deck railing, a curved porch, or a turret.
Pros of Freeform Pool Design
1. You get a truly custom pool design.
2. The pool design lends itself to waterfalls, grottos, and conversation areas.
3. The pool design can accommodate existing landscape features such as trees.
Freeform Pool Cons
1. If you opt for too many curves, you can increase the cost of a custom freeform pool substantially. Limit the number of curves to get the best bang for your buck.
2. Automatic pool covers are not compatible with freeform pools.
3. You won't have as much room to swim.
Rectangular Pools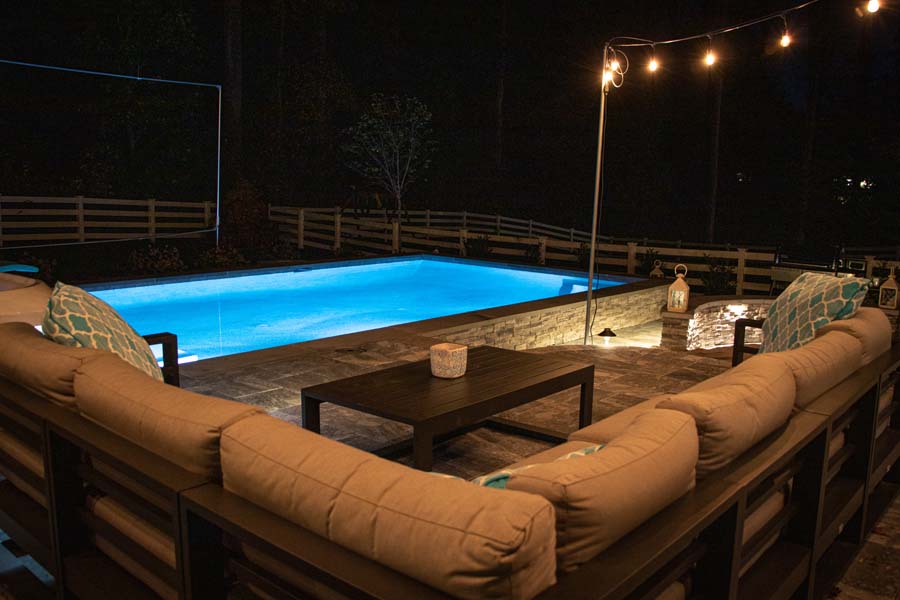 Rectangle pool designs feature clean lines and a classic feel. Many modern pool designs feature one long rectangle, or an L-shaped pool featuring a long rectangle and a short rectangle. If your pool will be close to your home and your home has lots of sharp corners and a squared roof line, a rectangular pool may complement your home's architecture.
Pros of a Rectangle Pool Design
1. A rectangular pool is easy to design and install.
2. It is also generally less expensive to build than a custom free-form pool of the same size because there is less labor and engineering involved.
3. Automatic pool covers work well with rectangular pools.
4. Rectangular pools are great for swimming laps and playing volleyball or water polo.
Rectangular Pool Cons
1. May be too formal-looking for your tastes.
2. Not as compatible with a tropical feel.
So, Which Pool Design Is Right for You?
If you want to swim laps, a rectangular pool would be the best choice. If you want your pool to have a tropical oasis feel, a freeform pool would be the best choice. Ultimately, the best pool design for your backyard will depend on how you want to use your pool and what you want it to look like. Both types of pools can vary in size depending on the size of your yard.
Related Reading: Inground Pool Planning 101
Hire Experienced Custom Pool Contractors
Keep in mind that any reputable pool contractor will need to schedule an on-site visit to take measurements and examine your space to see what the various constraints of the space will allow us to design/build. Your eventual pool design should take into consideration the existing features in your yard, exact pool location, location of trees, soil type, elevation changes, and more.
Dream It. Build It. Live It.
If you're dreaming about creating your personal pool paradise this summer, we can help. We create beautiful and innovative custom pool designs that turn your backyard into a spa-like retreat. We design and build a variety of other outdoor living projects as well, including patios, decks, outdoor kitchens, gardens, and more.
Check out our Portfolio for examples of our work, and to gain inspiration, and then contact us for a design consultation. We work with homeowners throughout the Capital Region, including Northern Virginia, Maryland, and Washington D.C.