Taking on a large project like transforming your backyard into the ultimate outdoor living and entertaining space takes a lot of planning. You have to make a lot of decisions about features, materials, budgeting, and more. That's one of the reasons our process includes a 3-D Visual Immersion Tour of your outdoor living project.
We create this video after we have an initial meeting and site analysis. By the time we create the video, we already have a signed design agreement, and we're ready to show you what the finished project might look like.
Here's an example of a 3-D Visual Immersion Tour we did for one of our clients:
The client, in Bowie, MD, wanted resort-style living: an inground pool, grotto, pool slide, pool house, patio, deck, outdoor kitchen, tennis court, basketball court, and hot tub. The homeowners work long hours and have little time to travel, so they wanted to put a resort in their Prince Georges County backyard.
Basically, the backyard was a blank slate. There was an existing deck that was removed so we started from scratch. We took the client's feedback into consideration when coming up with the design. They were very interested in having a natural, lagoon-type feel. So instead of a typical rectangular pool, we designed an amorphous shape. And to give them a resort-style feel, we also gave them a sundeck in the pool for lounging. There are also multiple spots for "gathering" including the firepit area. The curved feature was replicated for the deck.
Here are some photos of the work in progress and the finished project:
Custom Patio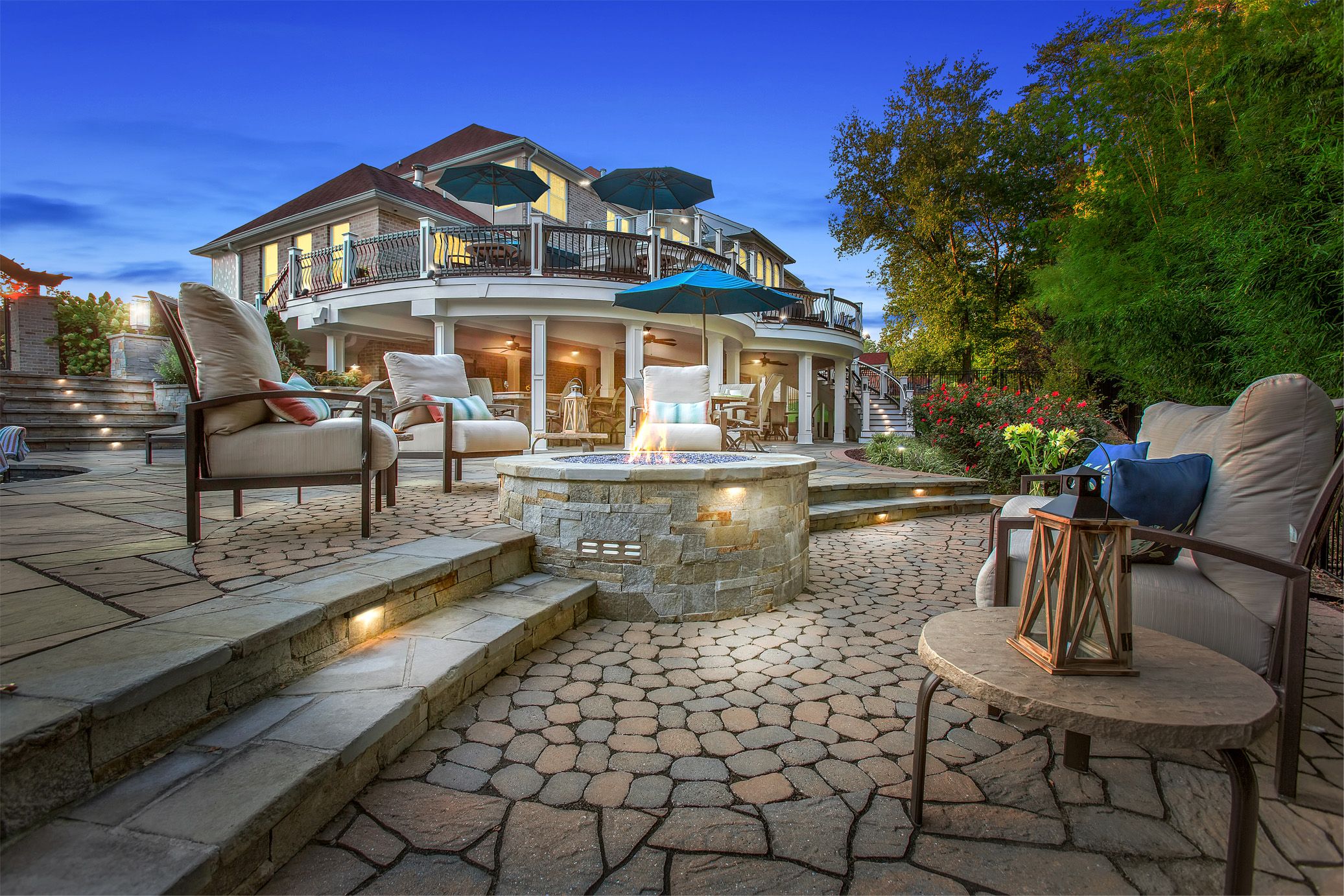 We created a multi-level patio with a fire pit and seating area using a variety of shapes of pavers and slabs for the stairs.
Elevated Deck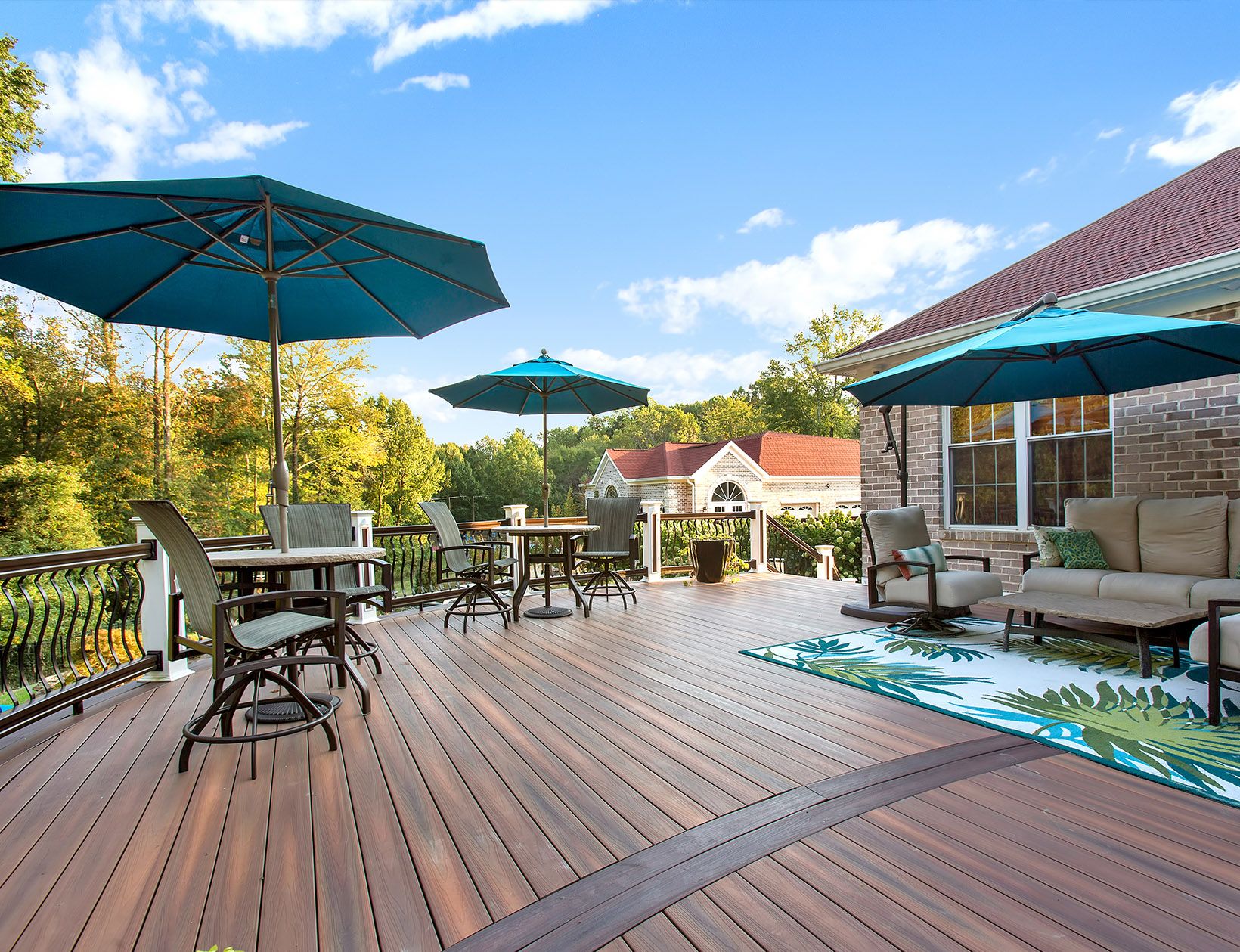 The elevation of this home allowed us to build an elevated deck and patio underneath. The client chose low-maintenance Fiberon composite decking with custom railing.
Outdoor Kitchen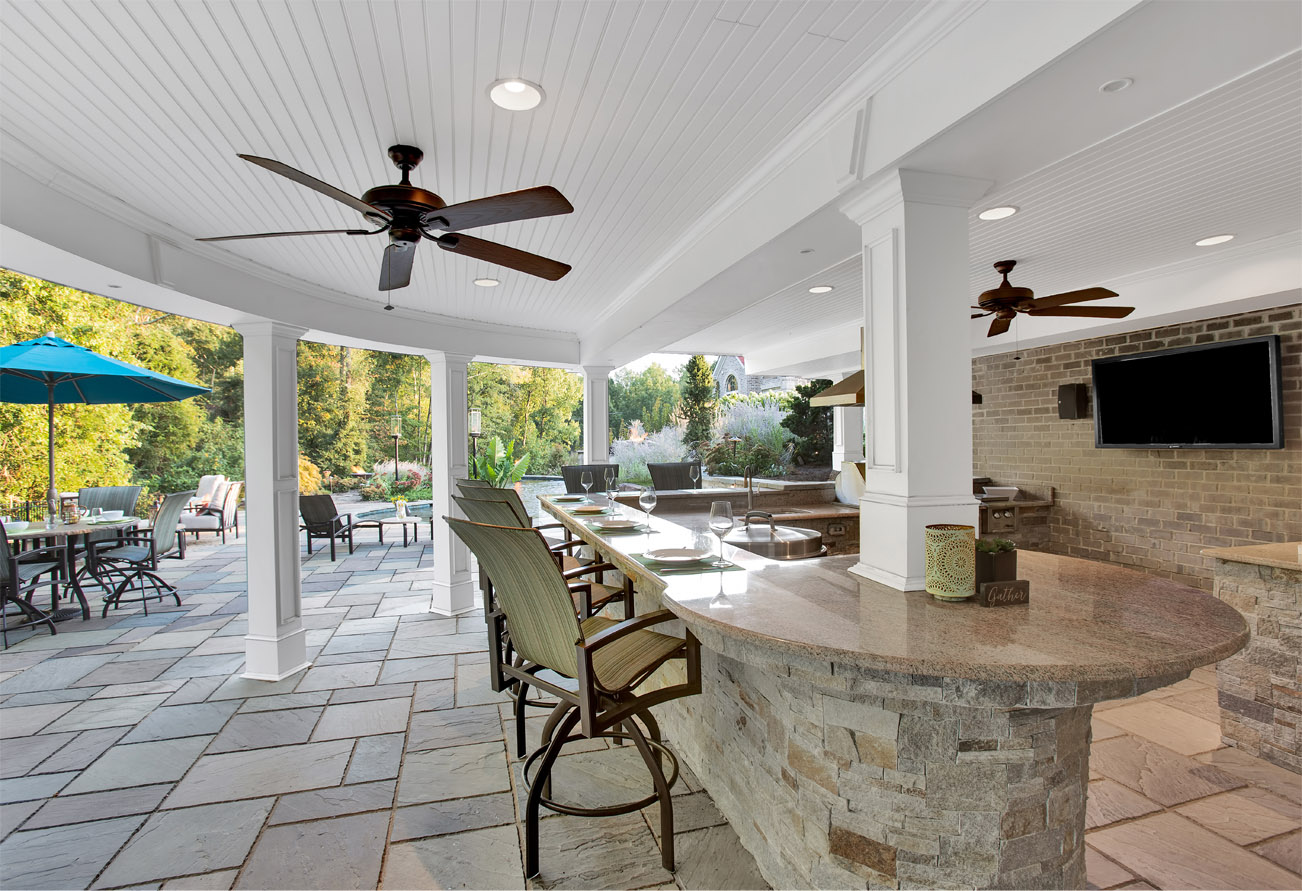 We placed the outdoor kitchen under the deck – sort of a built-in pavilion. Recessed lighting, ceiling fans, and a granite bar countertop make this kitchen nearly as nice as the one inside the client's home!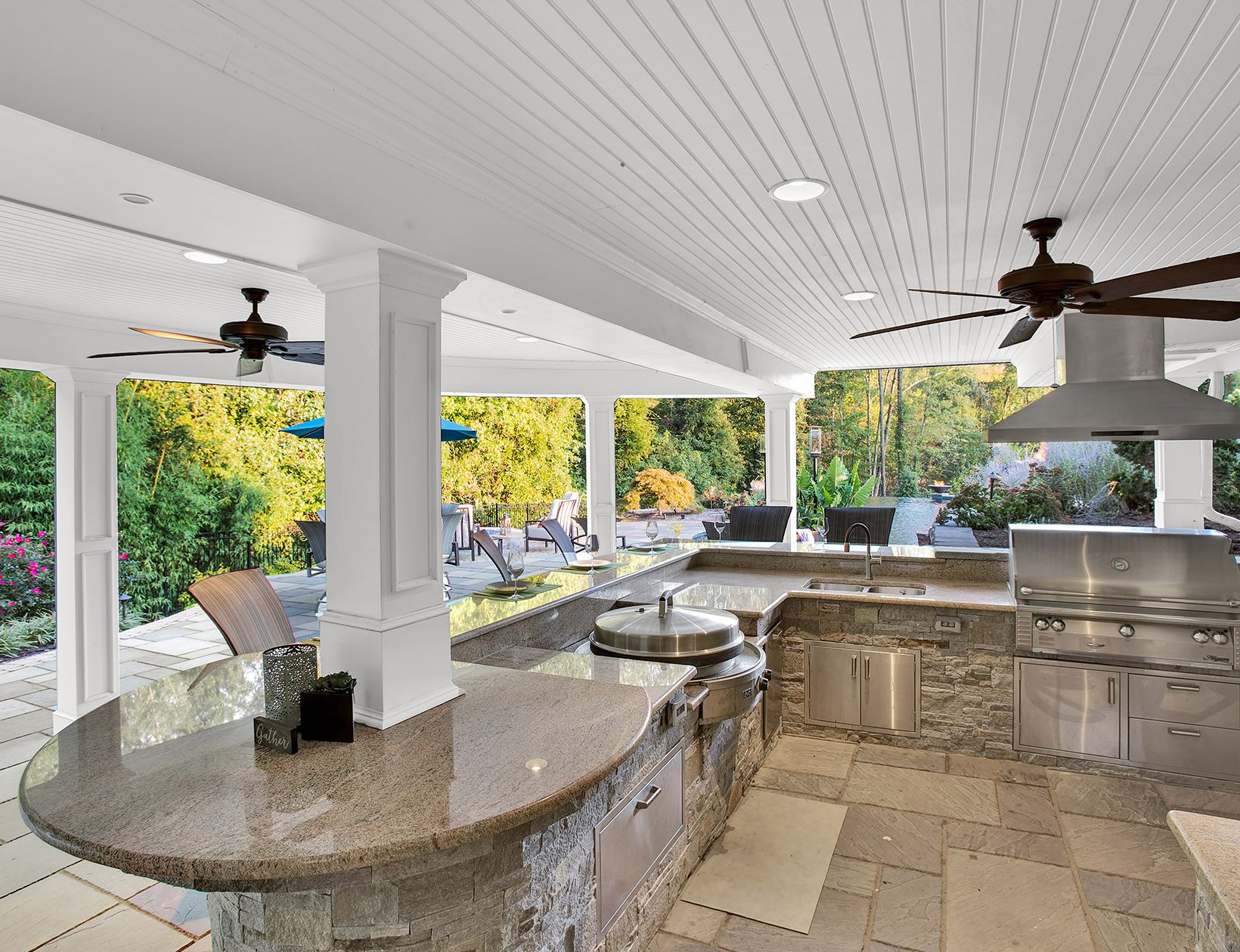 The L-shaped kitchen has all the elements the homeowner needs for outdoor entertaining. From the gas grill to the prep sink to the storage drawers, everything turned out exactly the way the client wanted.
Custom Inground Pool
The freeform custom pool with grotto, waterslide, and lush pool landscaping created a pool paradise. This family will enjoy it for years to come.
Dream It. Build It. Live It.
We utilize the 3-D Visual Immersion Tour to help our clients visualize the finished project. You select the features you love to create the final outdoor living plan. While your project might not be as extensive as the work we did for this homeowner, you deserve to get the backyard of your dreams. We can help you achieve that.
Check out our Portfolio for more examples of our work, and to gain inspiration, and then contact us for a design consultation. We work with homeowners throughout the Capital Region, including Northern Virginia, Maryland, and Washington D.C.